Welcome to the Isle of Wight Gun Club, the Island's oldest CPSA recognised gun club, and one of the county's best clay shooting venues,  we are open every other Sunday, 10am – 2pm
Next shoot – Sunday 29th May 2022
Shooting Update
Please note a change to the programme,  Sunday 29th May ( next shoot )  will be DTL & ABT  only  pre booked
Planning for the 2023 Island Games is taking place, read more
here
Heavy rain and wind make for difficult shooting
Today's inclement weather put a dampener on some shooters enthusiasm to go out. Of those that did venture out, most seemed to struggle. The layout didn't look difficult, but was made harder by the heavy rain and strong breeze. There didn't seem to be any targets that stood out as any harder than the rest, but the scores were lower than usual.
May Day shoot in the rain
Today's county championship shoot had a bit for everyone. There were some friendly stands, and some not so friendly ones to sort the wheat from the chaff. The fast midi and quartering right to left looper on stand 5 and the simo pair up in the pit were the two that tested all the shooters and ruined a few score cards. Well done to those that survived these two stands.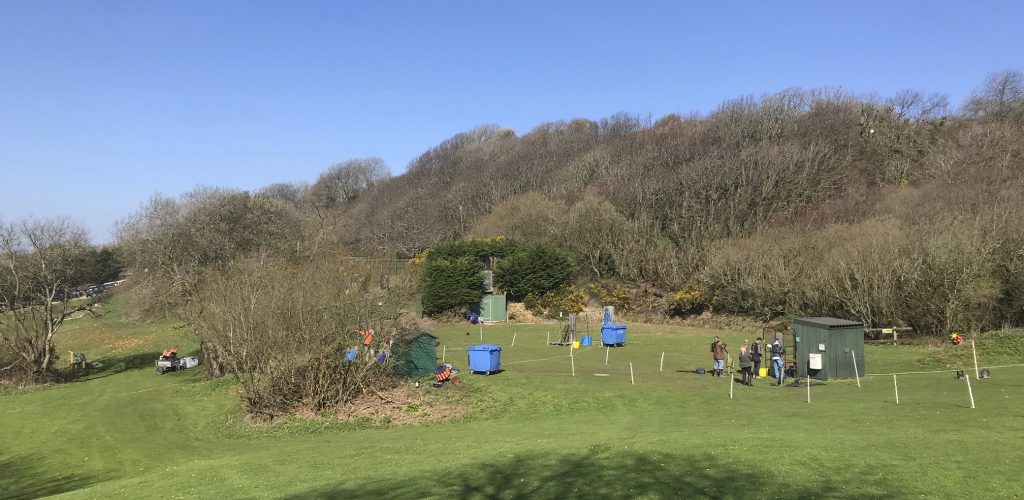 | Date | Sporting Fixture 100 Birds | Sporting Series | Trap Fixture 100 Birds |
| --- | --- | --- | --- |
| 15 May 22 | Sporting | Spring 6 | DTL (R) |
| 29 May 22 | *** NO SPORTING *** | | DTL & ABT Prebook Only |
| 12 Jun 22 | Sporting | Summer 1 | DTL (R) |
| 26 Jun 22 | Benefit Cup | Summer 2 | DTL - County Championship |
| 10 Jul 22 | Sporting | Summer 3 | DTL - Sam Beeney |
| 24 Jul 22 | Sporting | Summer 4 | DTL (R) |
| 07 Aug 22 | Sporting | Summer 5 | UT |
| 21 Aug 22 | Island Builders Cup | Autumn 1 | DTL - Club Championship |
| 04 Sep 22 | Sporting | Autumn 2 | DTL (R) - Colin Caws |
| 18 Sep 22 | Sporting | Autumn 3 | ABT - Club Championship |
| 02 Oct 22 | Sporting | Autumn 4 | DTL (R) |
| 16 Oct 22 | Sporting (R) | Autumn 5 | SB - Club championship |
| 30 Oct 22 | Sporting | Autumn 6 | DTL (R) |
| 12 Nov 22 | Sporting | SATURDAY Winter 1 | DTL |
| 27 Nov 22 | Sporting | Winter 2 | DTL (R) |
| 11 Dec 22 | Wappenshaw (bring a prize - win a prize | Winter 3 | DTL |
| 17 Dec 22 | Christmas Shoot | SATURDAY | DTL |
The Island Games will be in Guernsey in 2023, and a full schedule of shotgun events is proposed. https://www.iiga.org What we need to know, and quite quickly, is who would be interested in representing the Isle of Wight. Dates: 8 – 14 July 2023 Proposed Events: (both Mens and Womens events, individual and
Read More »