Welcome to the Isle of Wight Gun Club, the Island's oldest CPSA recognised gun club, and one of the county's best clay shooting venues,  we are open every other Sunday, 10am – 2pm
Next shoot – 17th October
Shooting Update
Great to be back  shooting – now we just hope the weather plays it's part for a great spring and summer of shooting!
Remember we are operating a pre-booking in members only shoot at the moment.   Membership subs are not crazy high, so if you do want to shoot, please do download a membership form, and join us.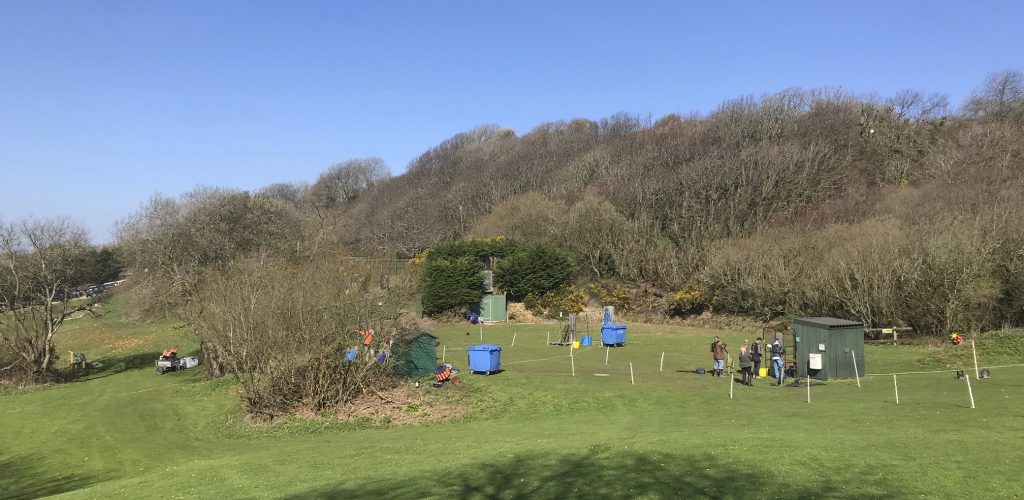 | Date | Sporting Fixture 100 Birds | Sporting Series | Trap Fixture 100 Birds |
| --- | --- | --- | --- |
| 17 Oct 21 | Sporting (R) | Autumn 4 | ABT - Club Championship |
| 31 Oct 21 | Sporting | Autumn 5 | DTL (R) |
| * Sat 13 Nov 21 | Sporting | Autumn 6 | UT |
| 28 Nov 21 | Club Class | Winter 1 | DTL (R) |
| 12 Dec 21 | Wappenshaw - Bring A Prize Win A Prize | Winter 2 | DTL |
| *Sat 18th Dec | SATURDAY - Christmas Shoot | | DTL |
Sunshine and showers, thankfully better than the weather on Saturday, with a great turn out, and some good scores.Well done to new member Justin Clayton, celebrating first shoot as a member with HighGun scoring 90. Autumnal weather approaching and the need to reach for warmer clothing in the coming weeks. Thanks to all who helped to set the ground, it's hard work in the summer months, but when you add in high winds, and torrential rain, setting up and packing away doubles the effort – if you feel like might be able to help, please don't hesitate to ask.
A bit of drizzle this morning wasn't enough to dampen the spirits of the shooters today. Everyone seemed to enjoy the layout……apart from the horrible midi up in the pit! We apologise for the couple of breakdowns we had, and the change of target on stand 3. Thanks to all that came and we hope to see you in two weeks time. Visitors : Hugh Calloway 85 Chris Draper 62 Peter Jones 57 Chris Judd 62 Chris Melrose 49 Joe Melrose (colt) 43 Nigel Read 69 Paul Rose 63 Nick Wills 57
It's been great to get back shooting,  and having the group busy, even if we are somewhat restricted with only club members being able to shoot.   The layouts since being back have been fantastic,  the grounds are in great condition,  a testament to all the work that has gone in, not just the last few months, but previous years.     We hope that in due course, more of our society can open up, and we can once again enjoy a cup of tea, and a breakfast roll  in the club house.   For sure we've been lucky with the weather,  long may that continue.   If you've not come to shoot at the club yet this year,  it's really worth dusting down your gun and coming and enjoying yourself in the great outdoors. Hope to see you at the ground soon.