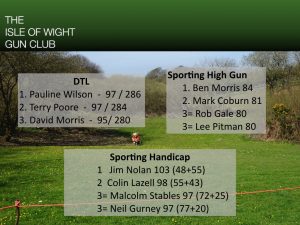 Such a lovely day at the club once again,  it's hard to believe that it's well into the Autumn Sporting Series, with sunshine and dry underfoot.  The ground is pretty much at it's best this time of year, with all the summer work starting to show through, one of the sporting stands in particular must be one of the best in the UK.
A tricky set of targets for the sporting guns today, which is reflected in only a few making the handicap 'par' 95.  Congratulations to Jim Nolan, who found the layout to his liking with a fantastic 103,  this was followed by Colin Lazell with 98, and tied for 3rd place Malcolm Stables & Neil Gurney.
In the High Gun competition Ben Morris scored an excellent 84, with Mark Coburn on 81, and Rob Gale and Lee Pitman tied for 3rd place with 80.
DTL the scores were as follows:
| | | | |
| --- | --- | --- | --- |
| | | Hits | Points |
| Pauline | Wilson | 97 | 286 |
| Terry | Poore | 97 | 284 |
| David | Morris | 95 | 280 |
| James | Brett | 95 | 274 |
| Roger | Wilson | 93 | 269 |
| Ray | Rogers | 89 | 260 |
| Christine | Poore | 85 | 242 |
| Charlotte | Morris | 62 | 176 |
Full Sporting Scores
| First | Last | Handicap | Club Class | Hits | High Gun Rank | Handicap Score | Handicap Rank |
| --- | --- | --- | --- | --- | --- | --- | --- |
| Ben | Morris | 12 | A | 84 | 1 | 96 | 5 |
| Mark | Coburn | 11 | A | 81 | 2 | 92 | 13 |
| Rob | Gale | 11 | A | 80 | 3 | 91 | 17 |
| Lee | Pitman | 15 | A | 80 | 3 | 95 | 7 |
| Tom | Marsh | 0 | u/c | 79 | 5 | 79 | 30 |
| Neil | Gurney | 20 | B | 77 | 6 | 97 | 3 |
| Steve | Donson | 0 | u/c | 76 | 7 | 76 | 32 |
| Mick | Gregson | 17 | A | 76 | 7 | 93 | 11 |
| Mark | Whillier | 12 | A | 76 | 7 | 88 | 22 |
| Ollie | Hughes | 17 | A | 75 | 10 | 92 | 13 |
| Mel | Critchley | 0 | u/c | 74 | 11 | 74 | 33 |
| Peter | Marsh | 0 | u/c | 74 | 11 | 74 | 33 |
| Paul | Dempsey | 20 | B | 72 | 13 | 92 | 13 |
| Simon | Hastain | 19 | A | 72 | 13 | 91 | 17 |
| Malcolm | Stables | 25 | C | 72 | 13 | 97 | 3 |
| Danny | Saunders | 24 | B | 70 | 16 | 94 | 9 |
| Charles | Darbyshire | 26 | C | 69 | 17 | 95 | 7 |
| Ron | Western | 21 | B | 69 | 17 | 90 | 19 |
| Jim | Dempsey | 19 | A | 67 | 19 | 86 | 23 |
| Steve | Dorman | 0 | u/c | 67 | 19 | 67 | 35 |
| Chris | Beesley | 31 | C | 65 | 21 | 96 | 5 |
| Dave | Greenham | 28 | C | 64 | 22 | 92 | 13 |
| Peter | Hughes | 30 | C | 63 | 23 | 93 | 11 |
| Richard | Rivlin | 22 | B | 62 | 24 | 84 | 27 |
| John | Slade | 21 | B | 61 | 25 | 82 | 28 |
| Phil | Strickland | 24 | B | 61 | 25 | 85 | 24 |
| Daryl | Langdon | 22 | B | 60 | 27 | 82 | 28 |
| Pete | Wiltshire | 0 | u/c | 60 | 27 | 60 | 36 |
| Howard | Yates | 25 | C | 60 | 27 | 85 | 24 |
| Robbie | Baker | 32 | D | 57 | 30 | 89 | 20 |
| Mike | Bolan | 22 | B | 57 | 30 | 79 | 30 |
| Merrick | James | 34 | D | 55 | 32 | 89 | 20 |
| Colin | Lazell | 43 | D | 55 | 32 | 98 | 2 |
| Garry | Jones | 0 | u/c | 52 | 34 | 52 | 37 |
| Rob | Butcher | 0 | u/c | 48 | 35 | 48 | 38 |
| Tom | Carlstedt-Duke | 37 | D | 48 | 35 | 85 | 24 |
| Jim | Nolan | 55 | D | 48 | 35 | 103 | 1 |
| Maz | Lazell | 51 | D | 43 | 38 | 94 | 9 |
Visitors Sporting Scores
| | |
| --- | --- |
| Hugh Calloway | 68 |
| Luke Bowan Clarke | 63 |
| Nik Read | 51 |
| Darren Jol | 49 |
| Marc McCullough | 49 |
| Geoff Hall | 47 |