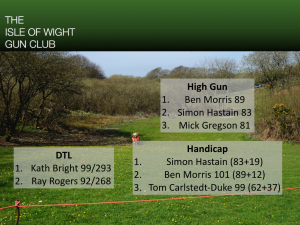 After the rain of  Saturday, it was a welcome relief to see the sunshine on Sunday.
The DTL scores were as follows:
Kath Bright  –  99 / 293
Ray Rogers  –  92 / 268
In the Sporting Competition  Ben Morris lead the way on 89 from Simon Hastain on 83 and Mick Gregson coming in with an 81. On a tough course day, Ben and Simon exchanged places on the handicap leaderboard, with Tom Carlstedt-Duke coming in 3rd.
Full scores in the table below
| First | Last | Personal HC | Club Class | Hits | Rank | Handicap | Rank |
| --- | --- | --- | --- | --- | --- | --- | --- |
| Ben | Morris | 12 | A | 89 | 1 | 101 | 2 |
| Simon | Hastain | 19 | A | 83 | 2 | 102 | 1 |
| Mick | Gregson | 17 | A | 81 | 3 | 98 | 4 |
| Mark | Coburn | 11 | A | 80 | 4 | 91 | 19 |
| Steve | Dorman | 0 | u/c | 79 | 5 | 79 | 32 |
| Rob | Gale | 11 | A | 77 | 6 | 88 | 26 |
| Ollie | Hughes | 17 | A | 77 | 6 | 94 | 14 |
| Jim | Dempsey | 19 | A | 75 | 8 | 94 | 14 |
| Paul | Dempsey | 20 | B | 75 | 8 | 95 | 11 |
| Mark | Johnson | 23 | B | 75 | 8 | 98 | 4 |
| Lee | Pitman | 15 | A | 75 | 8 | 90 | 20 |
| James | Brett | 21 | B | 74 | 12 | 95 | 11 |
| Ken | Rozier | 19 | A | 73 | 13 | 92 | 17 |
| Mike | Hendy | 25 | C | 72 | 14 | 97 | 8 |
| Danny | Saunders | 24 | B | 72 | 14 | 96 | 9 |
| Darren | Wray | 24 | B | 71 | 16 | 95 | 11 |
| Daryl | Langdon | 22 | B | 70 | 17 | 92 | 17 |
| Leon | Clifton | 20 | B | 69 | 18 | 89 | 22 |
| Richard | Rivlin | 22 | B | 67 | 19 | 89 | 22 |
| Robbie | Baker | 32 | D | 66 | 20 | 98 | 4 |
| Peter | Hughes | 30 | C | 66 | 20 | 96 | 9 |
| Roy | Vivash | 24 | B | 65 | 22 | 89 | 22 |
| Iain | Hall | 18 | A | 64 | 23 | 82 | 31 |
| Chris | Beesley | 31 | C | 62 | 24 | 93 | 16 |
| Tom | Carlstedt-Duke | 37 | D | 62 | 24 | 99 | 3 |
| Dave | Greenham | 28 | C | 62 | 24 | 90 | 20 |
| Howard | Yates | 25 | C | 62 | 24 | 87 | 28 |
| Graham | Morris | 27 | C | 61 | 28 | 88 | 26 |
| Phil | Strickland | 24 | B | 61 | 28 | 85 | 29 |
| Steve | King | 0 | u/c | 57 | 30 | 57 | 33 |
| Colin | Lazell | 43 | D | 55 | 31 | 98 | 4 |
| Kevin | Wheeler | 34 | D | 55 | 31 | 89 | 22 |
| Ben | Campbell | 0 | u/c | 45 | 33 | 45 | 34 |
| Charles | Bamlett | 0 | u/c | 44 | 34 | 44 | 35 |
| Maz | Lazell | 51 | D | 34 | 35 | 85 | 29 |
Visitors scores were as follows:
| | |
| --- | --- |
| Russell Spiers | 80 |
| Jennie Cartwright | 79 |
| Simon West | 78 |
| Colin Grimes | 75 |
| Bryn Saunders | 67 |
| Geoff Hall | 59 |
| Mike Cass | 55 |
| Pete Wiltshire | 55 |
| Dean Lazell | 51 |
| Nik Read | 48 |