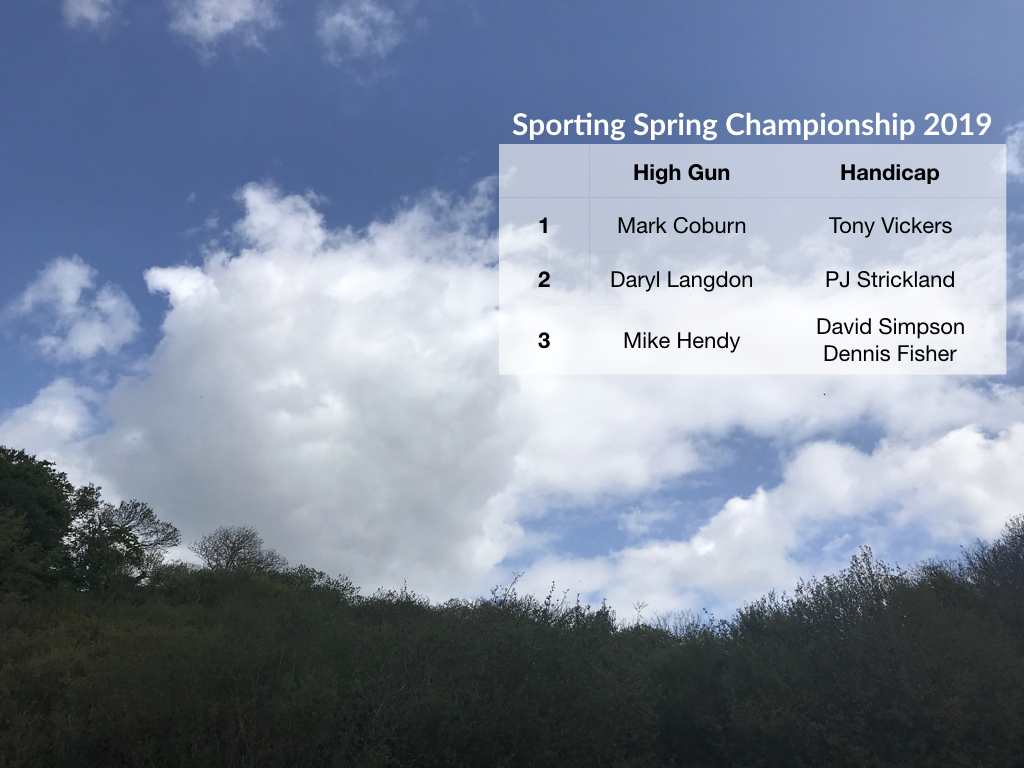 Well done to the 60 different members who took part in the Spring Championship this year,  12 of you attended all 6 shoots.
Great shooting from Mark Coburn gave him 1st overall with a corrected score of 394, followed by Daryl Langdon with 391, both far ahead of the rest, with 3rd place going to Mike Hendy with 373.
In the Handicap Spring Championship  Tony Vickers  shot well to record two first places and a second, on his way to winning the seasonal championship with 34 points,  He was followed by PJ Strickland  who has continued to learn his shooting at a rapid pace, all whilst attending to the needs of the ground, setting up and packing away, as well as working on the ground between shoots,  a well deserved 2nd place 38 points.  3= was just behind, and both with 39 points  were David Simpson and Dennis Fisher.
The handicaps have now been recalculated, and will be used at the next shoot for the Sporting Summer Series.   These will be published online, and in the club house.   The handicap numbers also drive the club classification,  and the next shoot will be a Club Class shoot – with awards to 1 place in each class.
Full High Gun Spring Season Scores:
| First | Last | Class | 10-Mar | 24-Mar | 07-Apr | 21-Apr | 05-May | 19-May | OA Hits | Discard | Hits | Position |
| --- | --- | --- | --- | --- | --- | --- | --- | --- | --- | --- | --- | --- |
| Mark | Coburn | A | 67 | 85 | 79 | 78 | 85 | 0 | 394 | 0 | 394 | 1 |
| Daryl | Langdon | A | 71 | 80 | 72 | 72 | 78 | 89 | 462 | 71 | 391 | 2 |
| Mike | Hendy | A | 63 | 77 | 74 | 58 | 72 | 87 | 431 | 58 | 373 | 3 |
| Rob | Gale | A | 63 | 77 | 71 | 73 | 82 | 0 | 366 | 0 | 366 | 4 |
| Steve | Donson | A | 65 | 65 | 68 | 74 | 74 | 77 | 423 | 65 | 358 | 5 |
| Danny | Saunders | B | 68 | 69 | 61 | 68 | 75 | 76 | 417 | 61 | 356 | 6 |
| Iain | Hall | A | 64 | 70 | 66 | 0 | 66 | 80 | 346 | 0 | 346 | 7 |
| Ben | Morris | A | 0 | 0 | 80 | 85 | 89 | 92 | 346 | 0 | 346 | 7 |
| Tom | Carlstedt-Duke | C | 61 | 66 | 59 | 0 | 71 | 67 | 324 | 0 | 324 | 9 |
| P J | Strickland | C | 56 | 68 | 57 | 69 | 73 | 57 | 380 | 56 | 324 | 9 |
| Mark | Whillier | A | 63 | 84 | 0 | 91 | 83 | 0 | 321 | 0 | 321 | 11 |
| Pete | Malston | C | 61 | 64 | 62 | 56 | 0 | 70 | 313 | 0 | 313 | 12 |
| Phil | Strickland | B | 46 | 66 | 65 | 65 | 67 | 0 | 309 | 0 | 309 | 13 |
| Roy | Vivash | B | 52 | 63 | 58 | 61 | 62 | 59 | 355 | 52 | 303 | 14 |
| Adrian | Brooks | A | 64 | 0 | 77 | 72 | 0 | 82 | 295 | 0 | 295 | 15 |
| Robbie | Baker | C | 57 | 51 | 50 | 62 | 57 | 68 | 345 | 50 | 295 | 15 |
| Cameron | Cullen | B | 64 | 0 | 0 | 72 | 69 | 84 | 289 | 0 | 289 | 17 |
| Peter | Squires | A | 66 | 0 | 76 | 70 | 73 | 0 | 285 | 0 | 285 | 18 |
| Tony | Bronwin | C | 59 | 59 | 49 | 62 | 55 | 0 | 284 | 0 | 284 | 19 |
| Steve | Dorman | C | 60 | 0 | 0 | 64 | 72 | 78 | 274 | 0 | 274 | 20 |
| Tony | Vickers | D | 50 | 59 | 46 | 38 | 69 | 50 | 312 | 38 | 274 | 20 |
| Pete | Wiltshire | C | 0 | 62 | 59 | 0 | 74 | 77 | 272 | 0 | 272 | 22 |
| David | Simpson | D | 49 | 50 | 55 | 48 | 56 | 61 | 319 | 48 | 271 | 23 |
| Howard | Yates | C | 62 | 59 | 0 | 0 | 70 | 79 | 270 | 0 | 270 | 24 |
| Darren | Wray | C | 59 | 0 | 67 | 71 | 72 | 0 | 269 | 0 | 269 | 25 |
| Chris | Beesley | D | 53 | 58 | 56 | 48 | 52 | 0 | 267 | 0 | 267 | 26 |
| Charles | Darbyshire | B | 63 | 65 | 62 | 0 | 66 | 0 | 256 | 0 | 256 | 27 |
| Merrick | James | D | 48 | 48 | 55 | 52 | 52 | 0 | 255 | 0 | 255 | 28 |
| Ian | McLellan | D | 37 | 56 | 43 | 43 | 57 | 56 | 292 | 37 | 255 | 28 |
| Jim | Nolan | B | 59 | 57 | 0 | 61 | 0 | 75 | 252 | 0 | 252 | 30 |
| John | Slade | B | 58 | 63 | 59 | 72 | 0 | 0 | 252 | 0 | 252 | 30 |
| Andy | Powell | u/c | 56 | 57 | 0 | 60 | 73 | 0 | 246 | 0 | 246 | 32 |
| Lee | Pitman | A | 71 | 0 | 77 | 90 | 0 | 0 | 238 | 0 | 238 | 33 |
| Paul | Dempsey | B | 0 | 75 | 0 | 81 | 0 | 79 | 235 | 0 | 235 | 34 |
| Rob | Bollen | u/c | 45 | 56 | 42 | 41 | 46 | 0 | 230 | 0 | 230 | 35 |
| Mike | Bolan | B | 0 | 74 | 65 | 0 | 87 | 0 | 226 | 0 | 226 | 36 |
| Dennis | Fisher | D | 35 | 44 | 38 | 44 | 51 | 46 | 258 | 35 | 223 | 37 |
| Geoff | Hall | D | 53 | 59 | 47 | 0 | 61 | 0 | 220 | 0 | 220 | 38 |
| Len | Bancroft | D | 0 | 49 | 0 | 51 | 54 | 60 | 214 | 0 | 214 | 39 |
| Russell | Joliffe | u/c | 48 | 39 | 37 | 0 | 43 | 42 | 209 | 0 | 209 | 40 |
| Leon | Clifton | A | 0 | 0 | 60 | 65 | 0 | 78 | 203 | 0 | 203 | 41 |
| Richard | Rivlin | C | 51 | 72 | 0 | 0 | 78 | 0 | 201 | 0 | 201 | 42 |
| Ross | Harvey | u/c | 63 | 0 | 70 | 0 | 0 | 67 | 200 | 0 | 200 | 43 |
| Mark | Rayment | u/c | 34 | 29 | 38 | 34 | 41 | 48 | 224 | 29 | 195 | 44 |
| Andrew | Harvey | C | 49 | 0 | 49 | 0 | 0 | 73 | 171 | 0 | 171 | 45 |
| James | Bronwin | | 0 | 0 | 57 | 51 | 55 | 0 | 163 | 0 | 163 | 46 |
| Jim | Dempsey | B | 0 | 0 | 0 | 0 | 79 | 83 | 162 | 0 | 162 | 47 |
| Ollie | Hughes | A | 68 | 81 | 0 | 0 | 0 | 0 | 149 | 0 | 149 | 48 |
| Mel | Critchley | B | 0 | 0 | 64 | 0 | 83 | 0 | 147 | 0 | 147 | 49 |
| Gavin | Calow | B | 0 | 0 | 0 | 71 | 0 | 76 | 147 | 0 | 147 | 49 |
| Darren | Jol | u/c | 0 | 70 | 0 | 0 | 68 | 0 | 138 | 0 | 138 | 51 |
| Harry | Brown | u/c | 55 | 0 | 0 | 0 | 62 | 0 | 117 | 0 | 117 | 52 |
| Dominic | Cowen | C | 0 | 0 | 0 | 56 | 0 | 39 | 95 | 0 | 95 | 53 |
| Paul | Brown | D | 22 | 0 | 0 | 38 | 31 | 0 | 91 | 0 | 91 | 54 |
| Jennie | Cartwright | A | 0 | 0 | 0 | 81 | 0 | 0 | 81 | 0 | 81 | 55 |
| Dave | Morris | C | 0 | 72 | 0 | 0 | 0 | 0 | 72 | 0 | 72 | 56 |
| Matt | Slade | B | 0 | 0 | 0 | 0 | 0 | 62 | 62 | 0 | 62 | 57 |
| Paul | Lynch | u/c | 0 | 0 | 61 | 0 | 0 | 0 | 61 | 0 | 61 | 58 |
| Mitchell | Brown | D | 58 | 0 | 0 | 0 | 0 | 0 | 58 | 0 | 58 | 59 |
| Catherine | Holmes | u/c | 0 | 0 | 28 | 0 | 0 | 29 | 57 | 0 | 57 | 60 |
Full Handicap Spring Season Scores:
| First | Last | Handicap | 10-Mar | 24-Mar | 07-Apr | 21-Apr | 05-May | 19-May | OA Points | Discard | Points | Position |
| --- | --- | --- | --- | --- | --- | --- | --- | --- | --- | --- | --- | --- |
| Tony | Vickers | 45 | 2 | 1 | 8 | 32 | 1 | 22 | 66 | 32 | 34 | 1 |
| P J | Strickland | 32 | 14 | 4 | 13 | 3 | 4 | 26 | 64 | 26 | 38 | 2 |
| David | Simpson | 43 | 3 | 15 | 1 | 17 | 12 | 8 | 56 | 17 | 39 | 3 |
| Dennis | Fisher | 53 | 14 | 7 | 8 | 6 | 5 | 13 | 53 | 14 | 39 | 3 |
| Daryl | Langdon | 17 | 14 | 7 | 13 | 22 | 19 | 5 | 80 | 22 | 58 | 5 |
| Mark | Coburn | 15 | 25 | 4 | 5 | 14 | 10 | 34 | 92 | 34 | 58 | 5 |
| Darren | Wray | 29 | 14 | 39 | 2 | 4 | 9 | 34 | 102 | 39 | 63 | 7 |
| Tom | Carlstedt-Duke | 29 | 7 | 13 | 15 | 40 | 10 | 19 | 104 | 40 | 64 | 8 |
| Chris | Beesley | 39 | 3 | 7 | 3 | 26 | 28 | 34 | 101 | 34 | 67 | 9 |
| Robbie | Baker | 34 | 5 | 30 | 20 | 8 | 28 | 11 | 102 | 30 | 72 | 10 |
| Cameron | Cullen | 25 | 10 | 39 | 41 | 6 | 20 | 1 | 117 | 41 | 76 | 11 |
| Pete | Malston | 28 | 10 | 19 | 10 | 31 | 43 | 15 | 128 | 43 | 85 | 12 |
| Mark | Whillier | 15 | 31 | 6 | 41 | 1 | 14 | 34 | 127 | 41 | 86 | 13 |
| Geoff | Hall | 37 | 7 | 12 | 20 | 40 | 14 | 34 | 127 | 40 | 87 | 14 |
| Pete | Wiltshire | 29 | 44 | 20 | 15 | 40 | 7 | 5 | 131 | 44 | 87 | 14 |
| Len | Bancroft | 44 | 44 | 15 | 41 | 10 | 14 | 8 | 132 | 44 | 88 | 16 |
| Danny | Saunders | 21 | 10 | 24 | 27 | 22 | 18 | 16 | 117 | 27 | 90 | 17 |
| Howard | Yates | 28 | 7 | 27 | 41 | 40 | 14 | 4 | 133 | 41 | 92 | 18 |
| Steve | Dorman | 27 | 18 | 39 | 41 | 17 | 12 | 7 | 134 | 41 | 93 | 19 |
| Steve | Donson | 19 | 21 | 31 | 18 | 14 | 23 | 19 | 126 | 31 | 95 | 20 |
| Merrick | James | 39 | 18 | 27 | 5 | 17 | 28 | 34 | 129 | 34 | 95 | 20 |
| Mike | Hendy | 16 | 29 | 15 | 10 | 35 | 32 | 10 | 131 | 35 | 96 | 22 |
| Tony | Bronwin | 32 | 5 | 20 | 30 | 13 | 33 | 34 | 135 | 34 | 101 | 23 |
| Peter | Squires | 19 | 20 | 39 | 3 | 22 | 25 | 34 | 143 | 39 | 104 | 24 |
| Charles | Darbyshire | 26 | 10 | 20 | 15 | 40 | 25 | 34 | 144 | 40 | 104 | 24 |
| Richard | Rivlin | 29 | 27 | 2 | 41 | 40 | 2 | 34 | 146 | 41 | 105 | 26 |
| Paul | Dempsey | 22 | 44 | 7 | 41 | 2 | 43 | 12 | 149 | 44 | 105 | 26 |
| Phil | Strickland | 25 | 37 | 20 | 10 | 20 | 25 | 34 | 146 | 37 | 109 | 28 |
| Mike | Bolan | 20 | 44 | 14 | 19 | 40 | 2 | 34 | 153 | 44 | 109 | 28 |
| Adrian | Brooks | 15 | 29 | 39 | 7 | 26 | 43 | 16 | 160 | 43 | 117 | 30 |
| Andrew | Harvey | 35 | 21 | 39 | 20 | 40 | 43 | 2 | 165 | 43 | 122 | 31 |
| Ian | McLellan | 37 | 36 | 15 | 31 | 33 | 20 | 24 | 159 | 36 | 123 | 32 |
| Ben | Morris | 4 | 44 | 39 | 20 | 22 | 23 | 19 | 167 | 44 | 123 | 32 |
| John | Slade | 23 | 26 | 29 | 27 | 10 | 43 | 34 | 169 | 43 | 126 | 34 |
| Jim | Dempsey | 25 | 44 | 39 | 41 | 40 | 5 | 2 | 171 | 44 | 127 | 35 |
| Rob | Gale | 12 | 35 | 25 | 25 | 29 | 20 | 34 | 168 | 35 | 133 | 36 |
| Paul | Brown | 58 | 27 | 39 | 41 | 8 | 31 | 34 | 180 | 41 | 139 | 37 |
| Jim | Nolan | 24 | 24 | 33 | 41 | 29 | 43 | 13 | 183 | 43 | 140 | 38 |
| Roy | Vivash | 25 | 33 | 26 | 25 | 28 | 33 | 28 | 173 | 33 | 140 | 38 |
| Mel | Critchley | 20 | 44 | 39 | 20 | 40 | 7 | 34 | 184 | 44 | 140 | 38 |
| Ollie | Hughes | 16 | 21 | 7 | 41 | 40 | 43 | 34 | 186 | 43 | 143 | 41 |
| Lee | Pitman | 5 | 34 | 39 | 27 | 10 | 43 | 34 | 187 | 43 | 144 | 42 |
| Iain | Hall | 14 | 31 | 31 | 31 | 40 | 35 | 23 | 191 | 40 | 151 | 43 |
| Mitchell | Brown | 40 | 1 | 39 | 41 | 40 | 43 | 34 | 198 | 43 | 155 | 44 |
| Gavin | Calow | 21 | 44 | 39 | 41 | 16 | 43 | 16 | 199 | 44 | 155 | 44 |
| Dave | Morris | 29 | 44 | 2 | 41 | 40 | 43 | 34 | 204 | 44 | 160 | 46 |
| Jennie | Cartwright | 19 | 44 | 39 | 41 | 4 | 43 | 34 | 205 | 44 | 161 | 47 |
| Leon | Clifton | 15 | 44 | 39 | 33 | 33 | 43 | 24 | 216 | 44 | 172 | 48 |
| Dominic | Cowen | 34 | 44 | 39 | 41 | 20 | 43 | 29 | 216 | 44 | 172 | 48 |
| Andy | Powell | 0 | 39 | 35 | 41 | 36 | 36 | 34 | 221 | 41 | 180 | 50 |
| Ross | Harvey | 0 | 38 | 39 | 34 | 40 | 43 | 30 | 224 | 43 | 181 | 51 |
| Rob | Bollen | 0 | 42 | 36 | 37 | 38 | 40 | 34 | 227 | 42 | 185 | 52 |
| James | Bronwin | 0 | 44 | 39 | 36 | 37 | 39 | 34 | 229 | 44 | 185 | 52 |
| Darren | Jol | 0 | 44 | 34 | 41 | 40 | 37 | 34 | 230 | 44 | 186 | 54 |
| Mark | Rayment | 0 | 43 | 38 | 38 | 39 | 42 | 31 | 231 | 43 | 188 | 55 |
| Russell | Joliffe | 0 | 41 | 37 | 39 | 40 | 41 | 32 | 230 | 41 | 189 | 56 |
| Matt | Slade | 25 | 44 | 39 | 41 | 40 | 43 | 27 | 234 | 44 | 190 | 57 |
| Harry | Brown | 0 | 40 | 39 | 41 | 40 | 38 | 34 | 232 | 41 | 191 | 58 |
| Paul | Lynch | 0 | 44 | 39 | 35 | 40 | 43 | 34 | 235 | 44 | 191 | 58 |
| Catherine | Holmes | 0 | 44 | 39 | 40 | 40 | 43 | 33 | 239 | 44 | 195 | 60 |