The last shoot of the Autumn Sporting Series was held on the 6th November.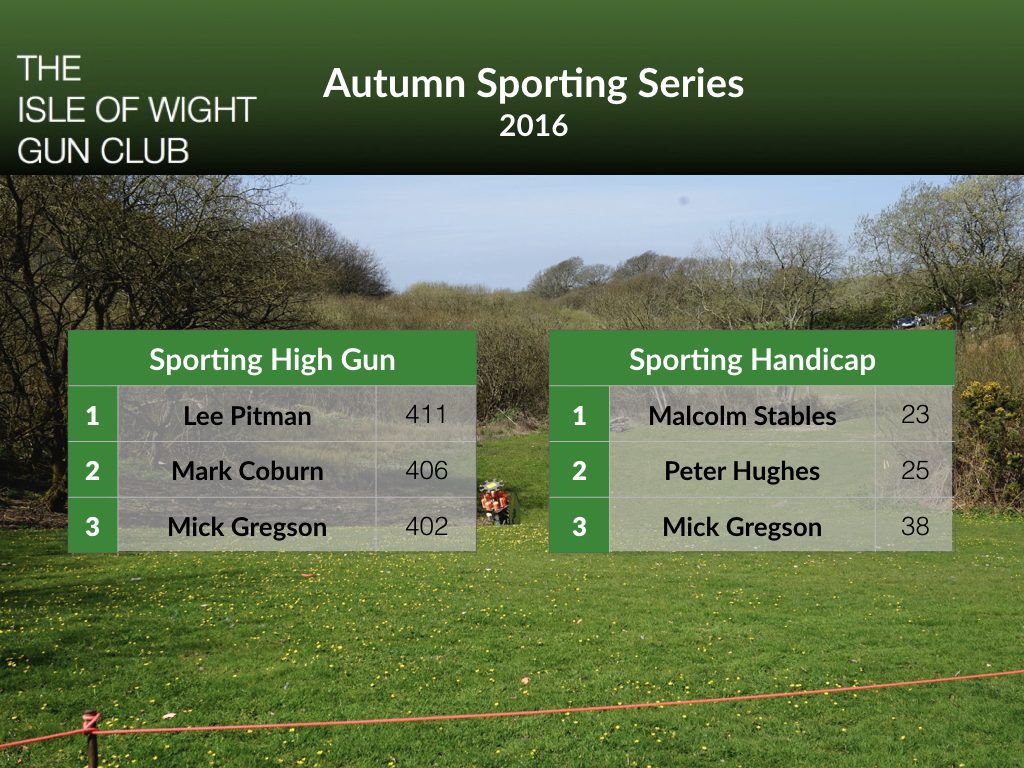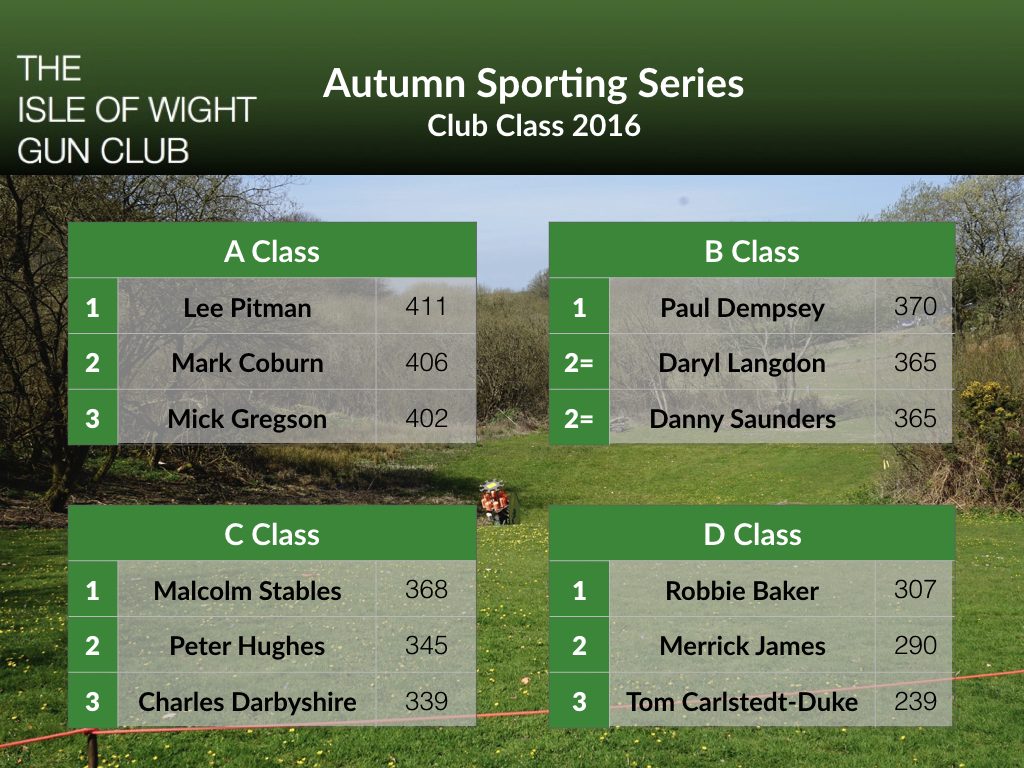 Lee Pitman took the High Gun title, despite not having an option to discard any scores, having missed the first shoot of the series,  Lee counted  75,80,80,93,83   Following not far behind in 2nd place was Mark Coburn, just 5 behind,  counting 80,80,81,79,86  And in 3rd place was Mick Gregson a further 4 hits behind, counting 77,81,76,83,85
In the Handicap competition, it was really all about Malcolm Stables,  discarding a missed shoot, he counted, 1 2 3 2 & 15 to score 23 points,  two ahead of Peter Hughes 7,9,2,4,3 for 25.  In third place was Mick Gregson, with 4,4,11,10,9 for a total of 38 points.   Remember that the handicap competition is a low scoring competition, with points awarded for overall handicap position on each shoot.
Club Class Winners:
A: Lee Pitman
B: Paul Dempsey
C: Malcolm Stables
D: Robbie Baker
High Gun Full Scores:
| First | Last | Class | 20-Aug | 11-Sep | 25-Sep | 09-Oct | 23-Oct | 06-Nov | OA Hits | Discard | Hits | Position |
| --- | --- | --- | --- | --- | --- | --- | --- | --- | --- | --- | --- | --- |
| Lee | Pitman | A | 0 | 75 | 80 | 80 | 93 | 83 | 411 | 0 | 411 | 1 |
| Mark | Coburn | A | 80 | 80 | 78 | 81 | 79 | 86 | 484 | 78 | 406 | 2 |
| Mick | Gregson | A | 77 | 81 | 70 | 76 | 83 | 85 | 472 | 70 | 402 | 3 |
| Rob | Gale | A | 79 | 77 | 70 | 80 | 83 | 0 | 389 | 0 | 389 | 4 |
| Ollie | Hughes | A | 58 | 77 | 69 | 75 | 77 | 88 | 444 | 58 | 386 | 5 |
| Simon | Hastain | A | 61 | 83 | 0 | 72 | 83 | 80 | 379 | 0 | 379 | 6 |
| Jim | Dempsey | A | 62 | 75 | 73 | 67 | 79 | 79 | 435 | 62 | 373 | 7 |
| Paul | Dempsey | B | 70 | 75 | 71 | 72 | 74 | 78 | 440 | 70 | 370 | 8 |
| Malcolm | Stables | C | 74 | 0 | 69 | 72 | 79 | 74 | 368 | 0 | 368 | 9 |
| Daryl | Langdon | B | 71 | 70 | 62 | 60 | 71 | 91 | 425 | 60 | 365 | 10 |
| Danny | Saunders | B | 73 | 72 | 54 | 70 | 74 | 76 | 419 | 54 | 365 | 10 |
| Ron | Western | B | 68 | 0 | 67 | 69 | 78 | 72 | 354 | 0 | 354 | 12 |
| Ben | Morris | A | 0 | 89 | 0 | 84 | 86 | 92 | 351 | 0 | 351 | 13 |
| Peter | Hughes | C | 61 | 66 | 64 | 63 | 72 | 80 | 406 | 61 | 345 | 14 |
| Charles | Darbyshire | C | 66 | 0 | 64 | 69 | 68 | 72 | 339 | 0 | 339 | 15 |
| Howard | Yates | C | 0 | 62 | 63 | 60 | 74 | 72 | 331 | 0 | 331 | 16 |
| Phil | Strickland | B | 62 | 61 | 64 | 61 | 67 | 72 | 387 | 61 | 326 | 17 |
| Mike | Hendy | C | 60 | 72 | 59 | 0 | 66 | 69 | 326 | 0 | 326 | 17 |
| Dave | Greenham | C | 55 | 62 | 50 | 64 | 73 | 67 | 371 | 50 | 321 | 19 |
| Chris | Beesley | C | 60 | 62 | 47 | 65 | 63 | 66 | 363 | 47 | 316 | 20 |
| Neil | Gurney | B | 68 | 0 | 0 | 77 | 80 | 89 | 314 | 0 | 314 | 21 |
| Robbie | Baker | D | 57 | 66 | 51 | 57 | 64 | 63 | 358 | 51 | 307 | 22 |
| Merrick | James | D | 62 | 0 | 52 | 55 | 56 | 65 | 290 | 0 | 290 | 23 |
| James | Brett | B | 0 | 74 | 69 | 0 | 64 | 80 | 287 | 0 | 287 | 24 |
| Richard | Rivlin | B | 54 | 67 | 0 | 62 | 0 | 75 | 258 | 0 | 258 | 25 |
| Tom | Carlstedt-Duke | D | 0 | 62 | 0 | 48 | 65 | 64 | 239 | 0 | 239 | 26 |
| Leon | Clifton | B | 0 | 69 | 0 | 0 | 82 | 82 | 233 | 0 | 233 | 27 |
| Kevin | Wheeler | D | 0 | 55 | 45 | 0 | 67 | 63 | 230 | 0 | 230 | 28 |
| Mark | Whillier | A | 73 | 0 | 0 | 76 | 0 | 77 | 226 | 0 | 226 | 29 |
| Steve | Donson | u/c | 0 | 0 | 69 | 76 | 81 | 0 | 226 | 0 | 226 | 29 |
| Steve | Dorman | u/c | 0 | 79 | 0 | 67 | 80 | 0 | 226 | 0 | 226 | 29 |
| Iain | Hall | A | 0 | 64 | 0 | 0 | 80 | 80 | 224 | 0 | 224 | 32 |
| Roy | Vivash | B | 53 | 65 | 32 | 0 | 57 | 0 | 207 | 0 | 207 | 33 |
| Colin | Lazell | D | 0 | 55 | 0 | 55 | 51 | 40 | 201 | 0 | 201 | 34 |
| Mike | Bolan | B | 62 | 0 | 70 | 57 | 0 | 0 | 189 | 0 | 189 | 35 |
| Darren | Wray | B | 53 | 71 | 59 | 0 | 0 | 0 | 183 | 0 | 183 | 36 |
| Steve | King | u/c | 0 | 57 | 55 | 0 | 60 | 0 | 172 | 0 | 172 | 37 |
| James | Westlotorn | D | 0 | 0 | 50 | 0 | 56 | 63 | 169 | 0 | 169 | 38 |
| Mel | Critchley | u/c | 0 | 0 | 0 | 74 | 0 | 78 | 152 | 0 | 152 | 39 |
| Ken | Rozier | A | 0 | 73 | 0 | 0 | 79 | 0 | 152 | 0 | 152 | 39 |
| Jim | Nolan | D | 0 | 0 | 36 | 48 | 0 | 66 | 150 | 0 | 150 | 41 |
| Rob | Butcher | u/c | 0 | 0 | 43 | 48 | 0 | 51 | 142 | 0 | 142 | 42 |
| Maz | Lazell | D | 0 | 34 | 0 | 43 | 30 | 32 | 139 | 0 | 139 | 43 |
| Justin | Elliott | C | 0 | 0 | 61 | 0 | 0 | 76 | 137 | 0 | 137 | 44 |
| Graham | Morris | C | 0 | 61 | 0 | 0 | 76 | 0 | 137 | 0 | 137 | 44 |
| Mark | Jones | C | 58 | 0 | 0 | 0 | 0 | 78 | 136 | 0 | 136 | 46 |
| Mark | Johnson | B | 0 | 75 | 59 | 0 | 0 | 0 | 134 | 0 | 134 | 47 |
| John | Slade | B | 0 | 0 | 0 | 61 | 0 | 65 | 126 | 0 | 126 | 48 |
| Pete | Wiltshire | u/c | 0 | 0 | 0 | 60 | 0 | 64 | 124 | 0 | 124 | 49 |
| Gavin | Wooles | C | 0 | 0 | 0 | 0 | 57 | 58 | 115 | 0 | 115 | 50 |
| Garry | Jones | u/c | 45 | 0 | 0 | 52 | 0 | 0 | 97 | 0 | 97 | 51 |
| Tom | Marsh | u/c | 0 | 0 | 0 | 79 | 0 | 0 | 79 | 0 | 79 | 52 |
| Katherine | Bright | u/c | 0 | 0 | 0 | 0 | 0 | 77 | 77 | 0 | 77 | 53 |
| James | Askew | A | 76 | 0 | 0 | 0 | 0 | 0 | 76 | 0 | 76 | 54 |
| Peter | Marsh | u/c | 0 | 0 | 0 | 74 | 0 | 0 | 74 | 0 | 74 | 55 |
| Bob | Morris | B | 0 | 0 | 0 | 0 | 72 | 0 | 72 | 0 | 72 | 56 |
| Geoff | Hall | u/c | 0 | 69 | 0 | 0 | 0 | 0 | 69 | 0 | 69 | 57 |
| Dave | Morris | u/c | 68 | 0 | 0 | 0 | 0 | 0 | 68 | 0 | 68 | 58 |
| Sharon | Morris | B | 66 | 0 | 0 | 0 | 0 | 0 | 66 | 0 | 66 | 59 |
| Andy | Hallett | u/c | 0 | 0 | 0 | 0 | 0 | 65 | 65 | 0 | 65 | 60 |
| Nigel | Leverton | C | 0 | 0 | 58 | 0 | 0 | 0 | 58 | 0 | 58 | 61 |
| Ben | Campbell | u/c | 0 | 45 | 0 | 0 | 0 | 0 | 45 | 0 | 45 | 62 |
| Ian | Williams | D | 45 | 0 | 0 | 0 | 0 | 0 | 45 | 0 | 45 | 62 |
| Charles | Bamlett | u/c | 0 | 44 | 0 | 0 | 0 | 0 | 44 | 0 | 44 | 64 |
| Len | Bancroft | u/c | 0 | 0 | 0 | 0 | 0 | 25 | 25 | 0 | 25 | 65 |
Handicap Full Scores:
| First | Last | Handicap | 20-Aug | 11-Sep | 25-Sep | 09-Oct | 23-Oct | 06-Nov | OA Points | Discard | Points | Position |
| --- | --- | --- | --- | --- | --- | --- | --- | --- | --- | --- | --- | --- |
| Malcolm | Stables | 25 | 1 | 37 | 2 | 3 | 2 | 15 | 60 | 37 | 23 | 1 |
| Peter | Hughes | 30 | 7 | 9 | 2 | 11 | 4 | 3 | 36 | 11 | 25 | 2 |
| Mick | Gregson | 17 | 4 | 4 | 16 | 11 | 10 | 9 | 54 | 16 | 38 | 3 |
| Danny | Saunders | 24 | 2 | 9 | 27 | 9 | 14 | 13 | 74 | 27 | 47 | 4 |
| Lee | Pitman | 15 | 32 | 20 | 1 | 7 | 1 | 18 | 79 | 32 | 47 | 4 |
| Paul | Dempsey | 20 | 11 | 11 | 6 | 13 | 20 | 18 | 79 | 20 | 59 | 6 |
| Charles | Darbyshire | 26 | 6 | 37 | 8 | 7 | 20 | 18 | 96 | 37 | 59 | 6 |
| Ben | Morris | 12 | 32 | 2 | 34 | 5 | 14 | 8 | 95 | 34 | 61 | 8 |
| Simon | Hastain | 19 | 24 | 1 | 34 | 17 | 4 | 15 | 95 | 34 | 61 | 8 |
| Neil | Gurney | 20 | 16 | 37 | 34 | 3 | 10 | 4 | 104 | 37 | 67 | 10 |
| Daryl | Langdon | 22 | 5 | 17 | 20 | 28 | 26 | 2 | 98 | 28 | 70 | 11 |
| Chris | Beesley | 31 | 7 | 16 | 27 | 5 | 20 | 23 | 98 | 27 | 71 | 12 |
| Ollie | Hughes | 17 | 29 | 14 | 18 | 13 | 20 | 6 | 100 | 29 | 71 | 12 |
| Jim | Dempsey | 19 | 23 | 14 | 4 | 23 | 14 | 18 | 96 | 23 | 73 | 14 |
| Mark | Coburn | 11 | 7 | 19 | 11 | 13 | 31 | 23 | 104 | 31 | 73 | 14 |
| Tom | Carlstedt-Duke | 37 | 32 | 3 | 34 | 24 | 4 | 11 | 108 | 34 | 74 | 16 |
| Jim | Nolan | 55 | 32 | 37 | 6 | 1 | 40 | 1 | 117 | 40 | 77 | 17 |
| Robbie | Baker | 32 | 13 | 4 | 22 | 20 | 19 | 29 | 107 | 29 | 78 | 18 |
| Merrick | James | 34 | 3 | 37 | 18 | 20 | 31 | 15 | 124 | 37 | 87 | 19 |
| Ron | Western | 21 | 13 | 37 | 12 | 19 | 12 | 32 | 125 | 37 | 88 | 20 |
| Dave | Greenham | 28 | 22 | 20 | 27 | 13 | 8 | 29 | 119 | 29 | 90 | 21 |
| Colin | Lazell | 43 | 32 | 4 | 34 | 2 | 20 | 36 | 128 | 36 | 92 | 22 |
| James | Brett | 21 | 32 | 11 | 8 | 39 | 34 | 11 | 135 | 39 | 96 | 23 |
| Howard | Yates | 25 | 32 | 28 | 12 | 24 | 12 | 23 | 131 | 32 | 99 | 24 |
| Rob | Gale | 11 | 11 | 26 | 25 | 17 | 20 | 44 | 143 | 44 | 99 | 24 |
| Leon | Clifton | 20 | 32 | 22 | 34 | 39 | 4 | 9 | 140 | 39 | 101 | 26 |
| Mike | Hendy | 25 | 19 | 8 | 20 | 39 | 29 | 31 | 146 | 39 | 107 | 27 |
| Phil | Strickland | 24 | 18 | 29 | 12 | 24 | 29 | 28 | 140 | 29 | 111 | 28 |
| Kevin | Wheeler | 34 | 32 | 22 | 26 | 39 | 8 | 23 | 150 | 39 | 111 | 28 |
| Justin | Elliott | 29 | 32 | 37 | 8 | 39 | 40 | 6 | 162 | 40 | 122 | 30 |
| James | Westlotorn | 37 | 32 | 37 | 16 | 39 | 26 | 13 | 163 | 39 | 124 | 31 |
| Iain | Hall | 18 | 32 | 31 | 34 | 39 | 14 | 18 | 168 | 39 | 129 | 32 |
| Mark | Jones | 30 | 16 | 37 | 34 | 39 | 40 | 5 | 171 | 40 | 131 | 33 |
| Mike | Bolan | 22 | 21 | 37 | 4 | 30 | 40 | 44 | 176 | 44 | 132 | 34 |
| Richard | Rivlin | 22 | 28 | 22 | 34 | 27 | 40 | 23 | 174 | 40 | 134 | 35 |
| Graham | Morris | 27 | 32 | 26 | 34 | 39 | 3 | 44 | 178 | 44 | 134 | 35 |
| Ken | Rozier | 19 | 32 | 17 | 34 | 39 | 14 | 44 | 180 | 44 | 136 | 37 |
| Darren | Wray | 24 | 26 | 11 | 22 | 39 | 40 | 44 | 182 | 44 | 138 | 38 |
| Maz | Lazell | 51 | 32 | 29 | 34 | 9 | 35 | 36 | 175 | 36 | 139 | 39 |
| Mark | Johnson | 23 | 32 | 4 | 24 | 39 | 40 | 44 | 183 | 44 | 139 | 39 |
| Mark | Whillier | 12 | 19 | 37 | 34 | 22 | 40 | 33 | 185 | 40 | 145 | 41 |
| James | Askew | 15 | 7 | 37 | 34 | 39 | 40 | 44 | 201 | 44 | 157 | 42 |
| Roy | Vivash | 24 | 31 | 22 | 31 | 39 | 35 | 44 | 202 | 44 | 158 | 43 |
| Nigel | Leverton | 30 | 32 | 37 | 12 | 39 | 40 | 44 | 204 | 44 | 160 | 44 |
| Sharon | Morris | 23 | 13 | 37 | 34 | 39 | 40 | 44 | 207 | 44 | 163 | 45 |
| John | Slade | 21 | 32 | 37 | 34 | 28 | 40 | 35 | 206 | 40 | 166 | 46 |
| Steve | Donson | 0 | 32 | 37 | 30 | 32 | 35 | 44 | 210 | 44 | 166 | 46 |
| Gavin | Wooles | 30 | 32 | 37 | 34 | 39 | 33 | 34 | 209 | 39 | 170 | 48 |
| Bob | Morris | 20 | 32 | 37 | 34 | 39 | 28 | 44 | 214 | 44 | 170 | 48 |
| Steve | Dorman | 0 | 32 | 32 | 34 | 35 | 38 | 44 | 215 | 44 | 171 | 50 |
| Tom | Marsh | 0 | 32 | 37 | 34 | 30 | 40 | 44 | 217 | 44 | 173 | 51 |
| Mel | Critchley | 0 | 32 | 37 | 34 | 33 | 40 | 38 | 214 | 40 | 174 | 52 |
| Ian | Williams | 34 | 25 | 37 | 34 | 39 | 40 | 44 | 219 | 44 | 175 | 53 |
| Steve | King | 0 | 32 | 34 | 32 | 39 | 39 | 44 | 220 | 44 | 176 | 54 |
| Peter | Marsh | 0 | 32 | 37 | 34 | 33 | 40 | 44 | 220 | 44 | 176 | 54 |
| Geoff | Hall | 0 | 32 | 33 | 34 | 39 | 40 | 44 | 222 | 44 | 178 | 56 |
| Pete | Wiltshire | 0 | 32 | 37 | 34 | 36 | 40 | 41 | 220 | 41 | 179 | 57 |
| Garry | Jones | 0 | 31 | 37 | 34 | 37 | 40 | 44 | 223 | 44 | 179 | 57 |
| Rob | Butcher | 0 | 32 | 37 | 33 | 38 | 40 | 42 | 222 | 42 | 180 | 59 |
| Ben | Campbell | 0 | 32 | 35 | 34 | 39 | 40 | 44 | 224 | 44 | 180 | 59 |
| Dave | Morris | 0 | 30 | 37 | 34 | 39 | 40 | 44 | 224 | 44 | 180 | 59 |
| Katherine | Bright | 0 | 32 | 37 | 34 | 39 | 40 | 39 | 221 | 40 | 181 | 62 |
| Charles | Bamlett | 0 | 32 | 36 | 34 | 39 | 40 | 44 | 225 | 44 | 181 | 62 |
| Andy | Hallett | 0 | 32 | 37 | 34 | 39 | 40 | 40 | 222 | 40 | 182 | 64 |
| Len | Bancroft | 0 | 32 | 37 | 34 | 39 | 40 | 43 | 225 | 43 | 182 | 64 |