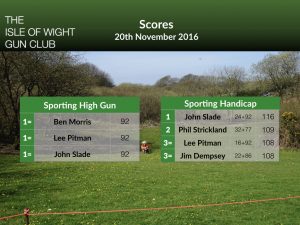 A great day at the club today, after storm Angus' rain had rolled through overnight. With the potential to have been a really tricky day, the sporting course 'played' fairly easily, shown by only 3 of the 29 Handicap qualifying scores below 'par'.
The Sporting High Gun was a three way tie for the first time in recorded history –  with Ben Morris, Lee Pitman, and John Slade all keeping out of trouble to score a fantastic 92.  A personal best for John, which also carried him to 1st place in the Handicap Competition 92+24;116.  Phil Strickland was 2nd with 77+32;109  and 3rd was shared between Lee Pitman  92+16,108 and Jim Dempsey who shot a personal best 86+22;108.
This was the first of the new winter series, The delayed autumn series scores will be published shortly, now that an incorrect score has been corrected.
Full Scores Table:
| First | Last | Handicap | Club Class | Hits | High Gun Rank | Handicap Score | Handicap Rank | Personal Best |
| --- | --- | --- | --- | --- | --- | --- | --- | --- |
| Ben | Morris | 10 | A | 92 | 1 | 102 | 11 | |
| Lee | Pitman | 16 | A | 92 | 1 | 108 | 3 | |
| John | Slade | 24 | B | 92 | 1 | 116 | 1 | √ |
| Mark | Coburn | 15 | A | 88 | 4 | 103 | 10 | |
| Jim | Dempsey | 22 | B | 86 | 5 | 108 | 3 | √ |
| Mark | Whillier | 19 | A | 82 | 6 | 101 | 13 | |
| Mick | Gregson | 16 | A | 80 | 7 | 96 | 25 | |
| Ollie | Hughes | 21 | B | 80 | 7 | 101 | 13 | |
| Rob | Gale | 18 | A | 79 | 9 | 97 | 24 | |
| Iain | Hall | 20 | A | 79 | 9 | 99 | 20 | |
| Daryl | Langdon | 27 | C | 79 | 9 | 106 | 7 | |
| Simon | Hastain | 21 | B | 77 | 12 | 98 | 23 | |
| Phil | Strickland | 32 | C | 77 | 12 | 109 | 2 | |
| Leon | Clifton | 20 | A | 76 | 14 | 96 | 25 | |
| Neil | Gurney | 18 | A | 76 | 14 | 94 | 27 | |
| Malcolm | Stables | 23 | B | 76 | 14 | 99 | 20 | |
| Chris | Beesley | 33 | D | 74 | 17 | 107 | 5 | |
| Justin | Elliott | 32 | C | 74 | 17 | 106 | 7 | |
| Charles | Darbyshire | 29 | C | 72 | 19 | 101 | 13 | |
| Richard | Rivlin | 29 | C | 72 | 19 | 101 | 13 | |
| Charles | Bamlett | 0 | u/c | 71 | 21 | 71 | 30 | √ |
| Paul | Dempsey | 22 | B | 70 | 22 | 92 | 28 | |
| Darren | Wray | 30 | C | 70 | 22 | 100 | 17 | |
| Danny | Saunders | 23 | B | 69 | 24 | 92 | 28 | |
| Geoff | Hall | 0 | U/c | 69 | 24 | 69 | 31 | |
| Andy | Hallett | 0 | u/c | 66 | 26 | 66 | 32 | √ |
| Robbie | Baker | 35 | D | 65 | 27 | 100 | 17 | |
| Tom | Carlstedt-Duke | 34 | D | 65 | 27 | 99 | 20 | |
| Rob | Butcher | 42 | D | 64 | 29 | 106 | 7 | |
| Roy | Vivash | 36 | D | 64 | 29 | 100 | 17 | |
| Merrick | James | 39 | D | 63 | 31 | 102 | 11 | |
| Jim | Nolan | 51 | D | 56 | 32 | 107 | 5 | |
Visitors Scores
| | |
| --- | --- |
| Jennie Cartwright | 86 |
| Andrew Powell | 73 |
| Luke Bowen-Clarke | 64 |
| Scott Powell | 56 |
| Dan Cheek | 55 |