A very very windy shoot (thanks Storm Katie – which did this to a crane, thanks BBC)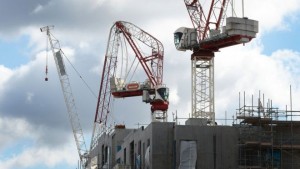 And occasional torrential rain a huge thanks must go to our volunteers that set up, remember if you are able to help set up or pack away, please let Maria know.
The Sporting competition was fiercely fought, with Mick Gregson coming out on top with an excellent 81, closely followed by Rob Gale on 79 with Alan Bexon and Simon Hastain equal 3rd with  78. In the handicap competition, Chris Beesley was first equal with 68+36  for 104, ranked equal with Peter Hughes, 65+39. 3rd equal were Rob Gale 79+23 102, and Neil Gurney 74+28.
Full Sporting Scores
| First | Last | Handicap | Class | Hits | High Gun Rank | H'Cap Score | H'Cap Rank |
| --- | --- | --- | --- | --- | --- | --- | --- |
| Mick | Gregson | 18 | A | 81 | 1 | 99 | 7 |
| Rob | Gale | 23 | B | 79 | 2 | 102 | 3 |
| Alan | Bexon | 0 | u/c | 78 | 3 | 78 | 26 |
| Simon | Hastain | 19 | A | 78 | 3 | 97 | 10 |
| Mark | Coburn | 19 | A | 77 | 5 | 96 | 11 |
| Mike | Hendy | 22 | B | 77 | 5 | 99 | 7 |
| Neil | Gurney | 28 | C | 74 | 7 | 102 | 3 |
| Mark | Whillier | 16 | A | 74 | 7 | 90 | 17 |
| Ken | Rozier | 17 | A | 73 | 9 | 90 | 17 |
| James | Brett | 28 | C | 72 | 10 | 100 | 5 |
| Ollie | Hughes | 19 | A | 72 | 10 | 91 | 16 |
| Iain | Hall | 21 | B | 71 | 12 | 92 | 15 |
| Lee | Pitman | 9 | A | 71 | 12 | 80 | 25 |
| Darren | Wray | 28 | C | 71 | 12 | 99 | 7 |
| James | Askew | 14 | A | 70 | 15 | 84 | 24 |
| Chris | Beesley | 36 | D | 68 | 16 | 104 | 1 |
| Peter | Hughes | 39 | D | 65 | 17 | 104 | 1 |
| Robbie | Baker | 37 | D | 63 | 18 | 100 | 5 |
| Richard | Rivlin | 23 | B | 63 | 18 | 86 | 21 |
| Matt | Slade | 25 | C | 61 | 20 | 86 | 21 |
| Phil | Strickland | 29 | C | 58 | 21 | 87 | 19 |
| Tim | Hall | 37 | D | 56 | 22 | 93 | 13 |
| Tom | Carlstedt-Duke | 38 | D | 55 | 23 | 93 | 13 |
| Merrick | James | 40 | D | 54 | 24 | 94 | 12 |
| Kevin | Wheeler | 34 | C | 53 | 25 | 87 | 19 |
| Roy | Vivash | 17 | A | 50 | 26 | 67 | 28 |
| Dave | Greenham | 36 | D | 49 | 27 | 85 | 23 |
| James | Westlotorn | 33 | C | 40 | 28 | 73 | 27 |
Single Barrel Trap Competition
Kath Bright    22/25   48/25   23/25   22/25   Total  85/100
John Slade   14/25   15/25   23/25   22/25   Total  74/100
Non Members sporting scores:
Jim Bishop – 75
Gareth Brown – 71
Robert Evans – 61
Tom Evans – 52
Colin Grimes – 73
Geoff Hall – 56
Ben Rivlin – 42
Julian Rivlin – 51
Nick Rivlin – 44