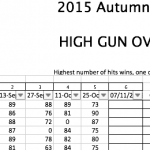 Scores for the series have been long over due, but they are here, and with one week remaining it couldn't be closer.
In the High Gun competition, Mick Greyson and Ollie Hughes are tied at the top of the table, each counting 339 hits, with Mark Whillier not far behind on 333.
In the handicap competition, however the run away leader is Merrick James who is counting 3,4,4,5 to lead the competition overall on 16 points. 2nd is KevinWheeler  on 33 and Jim Dempsey is 3rd with 35 points. Merrick should be fairly safe, but a big turn out and a poor performance will still allow one of the others to sneak in to the top spot.
Autumn Sporting High Gun
| First | Last | 30-Aug | 13-Sep | 27-Sep | 11-Oct | 25-Oct | 07/11/2015 | OA Hits | Discard | Hits | Position |
| --- | --- | --- | --- | --- | --- | --- | --- | --- | --- | --- | --- |
| Ollie | Hughes | 82 | 86 | 76 | 81 | 90 | 81 | 496 | 76 | 420 | 1 |
| Simon | Hastain | 84 | 87 | 0 | 84 | 75 | 82 | 412 | 0 | 412 | 2 |
| Mick | Gregson | 0 | 89 | 88 | 89 | 73 | 72 | 411 | 0 | 411 | 3 |
| Leon | Clifton | 78 | 89 | 78 | 82 | 80 | 71 | 478 | 71 | 407 | 4 |
| Danny | Saunders | 81 | 81 | 63 | 84 | 75 | 0 | 384 | 0 | 384 | 5 |
| Neil | Gurney | 0 | 87 | 77 | 70 | 73 | 74 | 381 | 0 | 381 | 6 |
| Jim | Dempsey | 0 | 84 | 74 | 76 | 80 | 64 | 378 | 0 | 378 | 7 |
| Daryl | Langdon | 82 | 75 | 69 | 75 | 67 | 0 | 368 | 0 | 368 | 8 |
| Kevin | Wheeler | 61 | 68 | 66 | 84 | 71 | 64 | 414 | 61 | 353 | 9 |
| Phil | Strickland | 71 | 67 | 72 | 71 | 65 | 68 | 414 | 65 | 349 | 10 |
| Dave | Greenham | 74 | 68 | 53 | 69 | 71 | 62 | 397 | 53 | 344 | 11 |
| Mark | Coburn | 83 | 88 | 0 | 0 | 89 | 74 | 334 | 0 | 334 | 12 |
| Mark | Whillier | 86 | 88 | 72 | 0 | 87 | 0 | 333 | 0 | 333 | 13 |
| Robbie | Baker | 76 | 72 | 61 | 51 | 66 | 56 | 382 | 51 | 331 | 14 |
| Merrick | James | 65 | 60 | 65 | 66 | 64 | 54 | 374 | 54 | 320 | 15 |
| Iain | Hall | 0 | 0 | 86 | 82 | 74 | 75 | 317 | 0 | 317 | 16 |
| Rob | Gale | 83 | 0 | 0 | 79 | 81 | 69 | 312 | 0 | 312 | 17 |
| Ron | Western | 82 | 79 | 72 | 70 | 0 | 0 | 303 | 0 | 303 | 18 |
| Richard | Rivlin | 77 | 78 | 0 | 69 | 75 | 0 | 299 | 0 | 299 | 19 |
| Chris | Beesley | 52 | 68 | 56 | 63 | 53 | 0 | 292 | 0 | 292 | 20 |
| Paul | Dempsey | 0 | 80 | 72 | 71 | 0 | 68 | 291 | 0 | 291 | 21 |
| Tim | Lindfield | 68 | 81 | 68 | 73 | 0 | 0 | 290 | 0 | 290 | 22 |
| Matt | Slade | 71 | 0 | 74 | 67 | 0 | 73 | 285 | 0 | 285 | 23 |
| Justin | Elliott | 69 | 73 | 0 | 74 | 0 | 66 | 282 | 0 | 282 | 24 |
| Nigel | Leverton | 69 | 70 | 68 | 0 | 71 | 0 | 278 | 0 | 278 | 25 |
| Lee | Pitman | 0 | 95 | 0 | 86 | 92 | 0 | 273 | 0 | 273 | 26 |
| Tim | Hall | 0 | 0 | 61 | 64 | 59 | 71 | 255 | 0 | 255 | 27 |
| James | Askew | 0 | 86 | 0 | 0 | 89 | 72 | 247 | 0 | 247 | 28 |
| James | Westlotorn | 59 | 0 | 55 | 65 | 0 | 63 | 242 | 0 | 242 | 29 |
| Roy | Vivash | 79 | 82 | 72 | 0 | 0 | 0 | 233 | 0 | 233 | 30 |
| Mike | Hendy | 82 | 82 | 0 | 69 | 0 | 0 | 233 | 0 | 233 | 30 |
| Colin | Lazell | 49 | 53 | 47 | 0 | 42 | 40 | 231 | 0 | 231 | 32 |
| Malcolm | Stables | 74 | 0 | 0 | 81 | 0 | 68 | 223 | 0 | 223 | 33 |
| Darren | Wray | 0 | 67 | 73 | 73 | 0 | 0 | 213 | 0 | 213 | 34 |
| Bob | Morris | 0 | 0 | 72 | 78 | 63 | 0 | 213 | 0 | 213 | 34 |
| John | Slade | 0 | 0 | 65 | 70 | 0 | 76 | 211 | 0 | 211 | 36 |
| Charles | Darbyshire | 0 | 67 | 0 | 0 | 87 | 56 | 210 | 0 | 210 | 37 |
| Ben | Lindfield | 62 | 0 | 66 | 73 | 0 | 0 | 201 | 0 | 201 | 38 |
| Colin | Grimes | 0 | 81 | 0 | 0 | 86 | 0 | 167 | 0 | 167 | 39 |
| Mike | Bolan | 0 | 0 | 0 | 83 | 81 | 0 | 164 | 0 | 164 | 40 |
| Ken | Rozier | 78 | 0 | 0 | 0 | 77 | 0 | 155 | 0 | 155 | 41 |
| Maz | Lazell | 35 | 0 | 33 | 0 | 33 | 31 | 132 | 0 | 132 | 42 |
| Peter | Hughes | 0 | 0 | 52 | 0 | 69 | 0 | 121 | 0 | 121 | 43 |
| Tom | Carlstedt-Duke | 61 | 0 | 0 | 0 | 0 | 42 | 103 | 0 | 103 | 44 |
| Lee | Sheasby | 57 | 42 | 0 | 0 | 0 | 0 | 99 | 0 | 99 | 45 |
| Ben | Morris | 0 | 96 | 0 | 0 | 0 | 0 | 96 | 0 | 96 | 46 |
| James | Heelan | 0 | 81 | 0 | 0 | 0 | 0 | 81 | 0 | 81 | 47 |
| Mark | Johnson | 0 | 0 | 0 | 0 | 76 | 0 | 76 | 0 | 76 | 48 |
| Tom | Marsh | 0 | 76 | 0 | 0 | 0 | 0 | 76 | 0 | 76 | 48 |
| Steve | Donson | 0 | 0 | 75 | 0 | 0 | 0 | 75 | 0 | 75 | 50 |
| Peter | Marsh | 0 | 70 | 0 | 0 | 0 | 0 | 70 | 0 | 70 | 51 |
| Mark | Jones | 0 | 68 | 0 | 0 | 0 | 0 | 68 | 0 | 68 | 52 |
| Ian | Williams | 0 | 0 | 63 | 0 | 0 | 0 | 63 | 0 | 63 | 53 |
| Gavin | Wooles | 0 | 0 | 59 | 0 | 0 | 0 | 59 | 0 | 59 | 54 |
| Howard | Yates | 0 | 0 | 58 | 0 | 0 | 0 | 58 | 0 | 58 | 55 |
| Ian | Cheshire | 0 | 0 | 36 | 0 | 0 | 0 | 36 | 0 | 36 | 56 |
| Loz | Hunter | 33 | 0 | 0 | 0 | 0 | 0 | 33 | 0 | 33 | 57 |
| Rob | Butcher | 30 | 0 | 0 | 0 | 0 | 0 | 30 | 0 | 30 | 58 |
| Jim | Nolan | 21 | 0 | 0 | 0 | 0 | 0 | 21 | 0 | 21 | 59 |
| Paul | Brown | 20 | 0 | 0 | 0 | 0 | 0 | 20 | 0 | 20 | 60 |
Autumn Sporting Handicap
| First | Last | Handicap | 30-Aug | 13-Sep | 27-Sep | 11-Oct | 25-Oct | 07/11/2015 | OA Points | Discard | Points | Position |
| --- | --- | --- | --- | --- | --- | --- | --- | --- | --- | --- | --- | --- |
| Merrick | James | 40 | 3 | 17 | 4 | 4 | 5 | 10 | 43 | 17 | 26 | 1 |
| Kevin | Wheeler | 32 | 22 | 17 | 8 | 1 | 7 | 6 | 61 | 22 | 39 | 2 |
| Ollie | Hughes | 18 | 9 | 10 | 14 | 14 | 3 | 3 | 53 | 14 | 39 | 2 |
| Tim | Hall | 49 | 35 | 37 | 2 | 2 | 3 | 1 | 80 | 37 | 43 | 4 |
| Phil | Strickland | 30 | 7 | 23 | 7 | 9 | 20 | 4 | 70 | 23 | 47 | 5 |
| Leon | Clifton | 19 | 17 | 3 | 10 | 9 | 14 | 14 | 67 | 17 | 50 | 6 |
| Jim | Dempsey | 23 | 31 | 4 | 10 | 14 | 7 | 17 | 83 | 31 | 52 | 7 |
| Simon | Hastain | 16 | 9 | 12 | 36 | 12 | 25 | 4 | 98 | 36 | 62 | 8 |
| Matt | Slade | 30 | 7 | 37 | 5 | 17 | 33 | 2 | 101 | 37 | 64 | 9 |
| Mick | Gregson | 15 | 35 | 10 | 6 | 6 | 27 | 17 | 101 | 35 | 66 | 10 |
| Dave | Greenham | 29 | 4 | 23 | 25 | 16 | 11 | 13 | 92 | 25 | 67 | 11 |
| Darren | Wray | 39 | 35 | 6 | 1 | 3 | 33 | 27 | 105 | 35 | 70 | 12 |
| Robbie | Baker | 30 | 2 | 14 | 16 | 27 | 19 | 19 | 97 | 27 | 70 | 12 |
| Maz | Lazell | 65 | 9 | 37 | 8 | 33 | 16 | 6 | 109 | 37 | 72 | 14 |
| Mike | Hendy | 31 | 1 | 1 | 36 | 12 | 33 | 27 | 110 | 36 | 74 | 15 |
| Iain | Hall | 20 | 35 | 37 | 3 | 7 | 21 | 9 | 112 | 37 | 75 | 16 |
| Roy | Vivash | 24 | 4 | 6 | 12 | 33 | 33 | 27 | 115 | 33 | 82 | 17 |
| Mark | Whillier | 14 | 9 | 14 | 22 | 33 | 10 | 27 | 115 | 33 | 82 | 17 |
| Neil | Gurney | 18 | 35 | 9 | 13 | 25 | 25 | 12 | 119 | 35 | 84 | 19 |
| James | Askew | 21 | 35 | 4 | 36 | 33 | 2 | 11 | 121 | 36 | 85 | 20 |
| Danny | Saunders | 18 | 15 | 20 | 26 | 7 | 24 | 27 | 119 | 27 | 92 | 21 |
| Rob | Gale | 17 | 9 | 37 | 36 | 18 | 16 | 19 | 135 | 37 | 98 | 22 |
| Daryl | Langdon | 20 | 6 | 28 | 19 | 19 | 28 | 27 | 127 | 28 | 99 | 23 |
| Richard | Rivlin | 22 | 15 | 17 | 36 | 23 | 18 | 27 | 136 | 36 | 100 | 24 |
| Paul | Dempsey | 21 | 35 | 16 | 15 | 22 | 33 | 15 | 136 | 35 | 101 | 25 |
| Ron | Western | 18 | 9 | 23 | 18 | 25 | 33 | 27 | 135 | 33 | 102 | 26 |
| Lee | Pitman | 8 | 35 | 12 | 36 | 20 | 11 | 27 | 141 | 36 | 105 | 27 |
| Mark | Coburn | 11 | 20 | 20 | 36 | 33 | 11 | 21 | 141 | 36 | 105 | 27 |
| Mike | Bolan | 23 | 35 | 37 | 36 | 4 | 5 | 27 | 144 | 37 | 107 | 29 |
| Malcolm | Stables | 20 | 20 | 37 | 36 | 9 | 33 | 16 | 151 | 37 | 114 | 30 |
| Chris | Beesley | 30 | 25 | 22 | 22 | 21 | 30 | 27 | 147 | 30 | 117 | 31 |
| Nigel | Leverton | 23 | 23 | 31 | 16 | 33 | 21 | 27 | 151 | 33 | 118 | 32 |
| Charles | Darbyshire | 27 | 35 | 30 | 36 | 33 | 1 | 22 | 157 | 36 | 121 | 33 |
| John | Slade | 20 | 35 | 37 | 24 | 24 | 33 | 6 | 159 | 37 | 122 | 34 |
| Colin | Lazell | 42 | 24 | 28 | 19 | 33 | 29 | 23 | 156 | 33 | 123 | 35 |
| Colin | Grimes | 16 | 35 | 23 | 36 | 33 | 9 | 27 | 163 | 36 | 127 | 36 |
| James | Heelan | 30 | 35 | 2 | 36 | 33 | 33 | 27 | 166 | 36 | 130 | 37 |
| Ben | Morris | 10 | 35 | 6 | 36 | 33 | 33 | 27 | 170 | 36 | 134 | 38 |
| Ken | Rozier | 17 | 18 | 37 | 36 | 33 | 21 | 27 | 172 | 37 | 135 | 39 |
| Tim | Lindfield | 0 | 27 | 32 | 28 | 30 | 33 | 27 | 177 | 33 | 144 | 40 |
| Tom | Carlstedt-Duke | 34 | 18 | 37 | 36 | 33 | 33 | 24 | 181 | 37 | 144 | 40 |
| Mark | Johnson | 23 | 35 | 37 | 36 | 33 | 14 | 27 | 182 | 37 | 145 | 42 |
| Ben | Lindfield | 0 | 28 | 37 | 29 | 30 | 33 | 27 | 184 | 37 | 147 | 43 |
| Justin | Elliott | 0 | 26 | 34 | 36 | 29 | 33 | 25 | 183 | 36 | 147 | 43 |
| Bob | Morris | 0 | 35 | 37 | 27 | 28 | 32 | 27 | 186 | 37 | 149 | 45 |
| Steve | Donson | 13 | 35 | 37 | 21 | 33 | 33 | 27 | 186 | 37 | 149 | 45 |
| James | Westlotorn | 0 | 29 | 37 | 33 | 32 | 33 | 26 | 190 | 37 | 153 | 47 |
| Mark | Jones | 28 | 35 | 27 | 36 | 33 | 33 | 27 | 191 | 36 | 155 | 48 |
| Ian | Williams | 0 | 35 | 37 | 30 | 33 | 33 | 27 | 195 | 37 | 158 | 49 |
| Lee | Sheasby | 0 | 30 | 36 | 36 | 33 | 33 | 27 | 195 | 36 | 159 | 50 |
| Gavin | Wooles | 0 | 35 | 37 | 31 | 33 | 33 | 27 | 196 | 37 | 159 | 50 |
| Peter | Hughes | 0 | 35 | 37 | 34 | 33 | 31 | 27 | 197 | 37 | 160 | 52 |
| Loz | Hunter | 0 | 31 | 37 | 36 | 33 | 33 | 27 | 197 | 37 | 160 | 52 |
| Howard | Yates | 0 | 35 | 37 | 32 | 33 | 33 | 27 | 197 | 37 | 160 | 52 |
| Tom | Marsh | 0 | 35 | 33 | 36 | 33 | 33 | 27 | 197 | 36 | 161 | 55 |
| Rob | Butcher | 0 | 32 | 37 | 36 | 33 | 33 | 27 | 198 | 37 | 161 | 55 |
| Jim | Nolan | 0 | 33 | 37 | 36 | 33 | 33 | 27 | 199 | 37 | 162 | 57 |
| Paul | Brown | 0 | 34 | 37 | 36 | 33 | 33 | 27 | 200 | 37 | 163 | 58 |
| Peter | Marsh | 0 | 35 | 35 | 36 | 33 | 33 | 27 | 199 | 36 | 163 | 58 |
| Ian | Cheshire | 0 | 35 | 37 | 35 | 33 | 33 | 27 | 200 | 37 | 163 | 58 |