A lovely day for shooting here at the gun club,  shame we can't claim that Spring is just around the corner –  but still a welcome mild and sunny day.   Although the ground continues to be very wet,  the woods continues to support our shooting, with those setting up still managing to get 3 challenging stands there.
There was also a DTL registered shoot today, with the following results:
| | | | |
| --- | --- | --- | --- |
| Kath | Bright | 95 | 284 |
| Ray | Rogers | 83 | 235 |
| Ben | Slade | 80 | 221 |
This is the penultimate shoot of the 2013/14 Winter Series, and there were some great scores today, in particular Lee Pitman's 91 for High Gun, followed by Mark Whillier, 90, and Mike Bolan 84.   In the Handicap competition, Robbie Adams lead the field home with 66(+50) for 116, followed by 4 people tied for 2nd –  Ken Rozier, James Askew, Matt Slade & Sharon Morris all scored a total of 112. The following 20 shooters all made 'par' of 95, and just 4 with a handicap number dipping below it.
We have added your personal handicap to your score sheet when booking in, to make it easier for you to know what you have to score to beat your fellow shooters as you go round, hope this has helped to 'spice-up' the day, certainly there were some heated debates around the ground on the pros and cons of a personal handicap system, it' good to hear those comments!
Today's Scores
| First | Last | Handicap | Hits/% | HG Rank | Handicap Score | Handicap Rank |
| --- | --- | --- | --- | --- | --- | --- |
| Lee | Pitman | 15 | 91 | 1 | 106 | 7 |
| Mark | Whillier | 16 | 90 | 2 | 106 | 7 |
| Mike | Bolan | 15 | 84 | 3 | 99 | 14 |
| Mick | Gregson | 19 | 82 | 4 | 101 | 13 |
| Ken | Rozier | 32 | 80 | 5 | 112 | 2 |
| Bob | Morris | 31 | 78 | 6 | 109 | 6 |
| Neil | Gurney | 26 | 77 | 7 | 103 | 10 |
| Danny | Saunders | 21 | 75 | 8 | 96 | 23 |
| Simon | Hastain | 25 | 74 | 9 | 99 | 14 |
| Malcom | Stables | 28 | 74 | 9 | 102 | 11 |
| James | Askew | 40 | 72 | 11 | 112 | 2 |
| Ollie | Hughes | 27 | 72 | 11 | 99 | 14 |
| Nigel | Leverton | 0 | 72 | 11 | 72 | 29 |
| Jim | Dempsey | 25 | 70 | 14 | 95 | 24 |
| Matt | Slade | 42 | 70 | 14 | 112 | 2 |
| Charles | Darbyshire | 29 | 69 | 16 | 98 | 18 |
| Gary | Hillman | 0 | 69 | 16 | 69 | 30 |
| Kevin | Plumbley | 28 | 69 | 16 | 97 | 19 |
| Richard | Benson | 30 | 67 | 19 | 97 | 19 |
| Dave | Morris | 30 | 67 | 19 | 97 | 19 |
| Robbie | Adams | 50 | 66 | 21 | 116 | 1 |
| Phil | Strickland | 34 | 63 | 22 | 97 | 19 |
| Sharon | Morris | 50 | 62 | 23 | 112 | 2 |
| Robbie | Baker | 41 | 61 | 24 | 102 | 11 |
| Chris | Beesley | 34 | 59 | 25 | 93 | 26 |
| Dave | Greenham | 34 | 59 | 25 | 93 | 26 |
| Duncan | Heenan | 45 | 59 | 25 | 104 | 9 |
| Colin | Lazell | 0 | 58 | 28 | 58 | 31 |
| Merrick | James | 42 | 57 | 29 | 99 | 14 |
| Roy | Vivash | 0 | 57 | 29 | 57 | 32 |
| Kevin | Wheeler | 36 | 57 | 29 | 93 | 26 |
| Ian | Williams | 38 | 56 | 32 | 94 | 25 |
| Charlie | Royal | 0 | 52 | 33 | 52 | 33 |
The chart here shows the distribution of the scores with the handicap added, the 95 line is our 'par' the scores well below it, belong to competitors who have yet to establish a handicap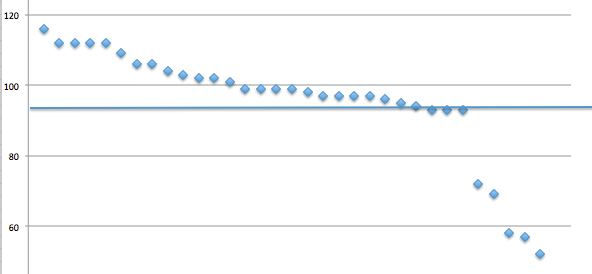 Winter Season High Gun
| First | Last | Class | 24-Nov | 08-Dec | 22-Dec | 05-Jan | 19-Jan | 02-Feb | OA Hits | Discard | Hits | Position |
| --- | --- | --- | --- | --- | --- | --- | --- | --- | --- | --- | --- | --- |
| Lee | Pitman | A | 84 | 85 | 72 | 78 | 91 | 91 | 501 | 72 | 429 | 1 |
| Mark | Whillier | A | 87 | 77 | 66 | 87 | 90 | 82 | 489 | 66 | 423 | 2 |
| Neil | Gurney | B | 88 | 83 | 71 | 81 | 77 | 81 | 481 | 71 | 410 | 3 |
| Mike | Bolan | A | 80 | 78 | 73 | 82 | 84 | 78 | 475 | 73 | 402 | 4 |
| Simon | Hastain | B | 85 | 86 | 71 | 82 | 74 | 71 | 469 | 71 | 398 | 5 |
| Mark | Coburn | A | 84 | 89 | 60 | 76 | 0 | 84 | 393 | 0 | 393 | 6 |
| Mick | Gregson | A | 77 | 0 | 74 | 79 | 82 | 70 | 382 | 0 | 382 | 7 |
| Danny | Saunders | A | 82 | 78 | 68 | 75 | 75 | 63 | 441 | 63 | 378 | 8 |
| John | Slade | A | 74 | 88 | 70 | 72 | 0 | 65 | 369 | 0 | 369 | 9 |
| Ollie | Hughes | B | 78 | 75 | 61 | 0 | 72 | 72 | 358 | 0 | 358 | 10 |
| Matt | Slade | D | 71 | 64 | 45 | 65 | 70 | 74 | 389 | 45 | 344 | 11 |
| Kevin | Wheeler | C | 73 | 79 | 58 | 63 | 57 | 63 | 393 | 57 | 336 | 12 |
| Phil | Strickland | C | 68 | 68 | 58 | 53 | 63 | 72 | 382 | 53 | 329 | 13 |
| Dave | Greenham | C | 72 | 66 | 54 | 58 | 59 | 70 | 379 | 54 | 325 | 14 |
| Robbie | Baker | D | 67 | 67 | 49 | 68 | 61 | 58 | 370 | 49 | 321 | 15 |
| James | Askew | D | 59 | 58 | 42 | 62 | 72 | 60 | 353 | 42 | 311 | 16 |
| Roy | Vivash | U/C | 69 | 0 | 57 | 57 | 57 | 69 | 309 | 0 | 309 | 17 |
| Merrick | James | D | 66 | 61 | 54 | 63 | 57 | 59 | 360 | 54 | 306 | 18 |
| Chris | Beesley | C | 62 | 71 | 55 | 49 | 59 | 58 | 354 | 49 | 305 | 19 |
| Nigel | Leverton | U/C | 0 | 66 | 47 | 53 | 72 | 61 | 299 | 0 | 299 | 20 |
| Jim | Dempsey | B | 0 | 84 | 0 | 70 | 70 | 64 | 288 | 0 | 288 | 21 |
| Ken | Rozier | C | 75 | 70 | 0 | 0 | 80 | 60 | 285 | 0 | 285 | 22 |
| Duncan | Heenan | D | 48 | 57 | 43 | 40 | 59 | 48 | 295 | 40 | 255 | 23 |
| Charles | Darbyshire | C | 75 | 0 | 53 | 0 | 69 | 53 | 250 | 0 | 250 | 24 |
| Jennie | Cartwright | B | 73 | 0 | 0 | 70 | 0 | 75 | 218 | 0 | 218 | 25 |
| Kevin | Plumbley | B | 77 | 0 | 0 | 0 | 69 | 67 | 213 | 0 | 213 | 26 |
| Ron | Western | A | 77 | 74 | 56 | 0 | 0 | 0 | 207 | 0 | 207 | 27 |
| Dave | Moring | C | 70 | 69 | 0 | 67 | 0 | 0 | 206 | 0 | 206 | 28 |
| Robbie | Adams | D | 67 | 0 | 0 | 0 | 66 | 54 | 187 | 0 | 187 | 29 |
| John | Welstead | D | 60 | 52 | 0 | 0 | 0 | 53 | 165 | 0 | 165 | 30 |
| Charlie | Royal | U/C | 55 | 44 | 0 | 0 | 52 | 0 | 151 | 0 | 151 | 31 |
| Malcom | Stables | B | 0 | 0 | 0 | 76 | 74 | 0 | 150 | 0 | 150 | 32 |
| Simon | Ingram | U/C | 0 | 0 | 58 | 56 | 0 | 29 | 143 | 0 | 143 | 33 |
| Mark | Jones | B | 0 | 0 | 63 | 63 | 0 | 0 | 126 | 0 | 126 | 34 |
| Daryl | Langdon | B | 67 | 0 | 0 | 47 | 0 | 0 | 114 | 0 | 114 | 35 |
| Colin | Lazell | U/C | 0 | 0 | 0 | 0 | 58 | 50 | 108 | 0 | 108 | 36 |
| Brian | Waghorn | B | 0 | 0 | 0 | 81 | 0 | 0 | 81 | 0 | 81 | 37 |
| Mark | Johnson | B | 0 | 78 | 0 | 0 | 0 | 0 | 78 | 0 | 78 | 38 |
| Bob | Morris | C | 0 | 0 | 0 | 0 | 78 | 0 | 78 | 0 | 78 | 38 |
| Gavin | Calow | B | 0 | 0 | 0 | 74 | 0 | 0 | 74 | 0 | 74 | 40 |
| Geoff | Cooke | U/C | 0 | 0 | 0 | 0 | 0 | 73 | 73 | 0 | 73 | 41 |
| Glenn | Fitch | U/C | 0 | 0 | 0 | 73 | 0 | 0 | 73 | 0 | 73 | 41 |
| Gary | Hillman | U/C | 0 | 0 | 0 | 0 | 69 | 0 | 69 | 0 | 69 | 43 |
| Richard | Benson | C | 0 | 0 | 0 | 0 | 67 | 0 | 67 | 0 | 67 | 44 |
| Dave | Morris | U/C | 0 | 0 | 0 | 0 | 67 | 0 | 67 | 0 | 67 | 44 |
| Paul | Dempsey | B | 0 | 66 | 0 | 0 | 0 | 0 | 66 | 0 | 66 | 46 |
| Sharon | Morris | D | 0 | 0 | 0 | 0 | 62 | 0 | 62 | 0 | 62 | 47 |
| Ian | Williams | D | 0 | 0 | 0 | 0 | 56 | 0 | 56 | 0 | 56 | 48 |
| Nigel | Johnson | C | 0 | 0 | 0 | 56 | 0 | 0 | 56 | 0 | 56 | 48 |
| Terry | Kent | U/C | 0 | 0 | 0 | 45 | 0 | 0 | 45 | 0 | 45 | 50 |
| Peter | Buchanan | U/C | 0 | 0 | 0 | 38 | 0 | 0 | 38 | 0 | 38 | 51 |
| George | Wooldridge | D | 0 | 0 | 0 | 32 | 0 | 0 | 32 | 0 | 32 | 52 |
Winter Season Handicap
| First | Last | Handicap | 24-Nov | 08-Dec | 22-Dec | 05-Jan | 19-Jan | 02-Feb | OA Points | Discard | Points | Position |
| --- | --- | --- | --- | --- | --- | --- | --- | --- | --- | --- | --- | --- |
| Neil | Gurney | 26 | 2 | 4 | 1 | 3 | 10 | 2 | 22 | 10 | 12 | 1 |
| Matt | Slade | 42 | 3 | 7 | 15 | 3 | 2 | 1 | 31 | 15 | 16 | 2 |
| Simon | Hastain | 25 | 4 | 2 | 2 | 3 | 14 | 15 | 40 | 15 | 25 | 3 |
| Robbie | Baker | 41 | 6 | 6 | 8 | 1 | 11 | 11 | 43 | 11 | 32 | 4 |
| Kevin | Wheeler | 36 | 5 | 1 | 4 | 12 | 25 | 11 | 58 | 25 | 33 | 5 |
| Merrick | James | 42 | 6 | 10 | 2 | 6 | 14 | 9 | 47 | 14 | 33 | 5 |
| Mark | Coburn | 21 | 10 | 3 | 21 | 15 | 34 | 5 | 88 | 34 | 54 | 7 |
| Phil | Strickland | 34 | 17 | 11 | 6 | 24 | 19 | 3 | 80 | 24 | 56 | 8 |
| Ollie | Hughes | 27 | 10 | 11 | 11 | 34 | 14 | 11 | 91 | 34 | 57 | 9 |
| James | Askew | 40 | 20 | 20 | 18 | 9 | 2 | 10 | 79 | 20 | 59 | 10 |
| Mark | Whillier | 16 | 14 | 22 | 18 | 8 | 7 | 14 | 83 | 22 | 61 | 11 |
| Lee | Pitman | 15 | 20 | 17 | 15 | 19 | 7 | 3 | 81 | 20 | 61 | 11 |
| Robbie | Adams | 50 | 1 | 28 | 26 | 34 | 1 | 6 | 96 | 34 | 62 | 13 |
| Dave | Greenham | 34 | 9 | 17 | 11 | 20 | 25 | 6 | 88 | 25 | 63 | 14 |
| Ken | Rozier | 32 | 8 | 11 | 26 | 34 | 2 | 19 | 100 | 34 | 66 | 15 |
| Duncan | Heenan | 45 | 26 | 11 | 11 | 25 | 9 | 17 | 99 | 26 | 73 | 16 |
| Mick | Gregson | 19 | 23 | 28 | 5 | 14 | 13 | 22 | 105 | 28 | 77 | 17 |
| Mike | Bolan | 15 | 25 | 22 | 11 | 15 | 14 | 17 | 104 | 25 | 79 | 18 |
| Danny | Saunders | 21 | 14 | 19 | 9 | 17 | 22 | 24 | 105 | 24 | 81 | 19 |
| Chris | Beesley | 34 | 23 | 8 | 9 | 26 | 25 | 19 | 110 | 26 | 84 | 20 |
| Jennie | Cartwright | 29 | 17 | 28 | 26 | 12 | 34 | 6 | 123 | 34 | 89 | 21 |
| Jim | Dempsey | 25 | 31 | 4 | 26 | 18 | 23 | 22 | 124 | 31 | 93 | 22 |
| Dave | Moring | 33 | 14 | 11 | 26 | 11 | 34 | 32 | 128 | 34 | 94 | 23 |
| Kevin | Plumbley | 28 | 10 | 28 | 26 | 34 | 19 | 16 | 133 | 34 | 99 | 24 |
| Charles | Darbyshire | 29 | 13 | 28 | 18 | 34 | 18 | 25 | 136 | 34 | 102 | 25 |
| Malcom | Stables | 28 | 31 | 28 | 26 | 7 | 11 | 32 | 135 | 32 | 103 | 26 |
| John | Slade | 16 | 28 | 9 | 17 | 23 | 34 | 26 | 137 | 34 | 103 | 26 |
| Brian | Waghorn | 28 | 31 | 28 | 26 | 1 | 34 | 32 | 152 | 34 | 118 | 28 |
| Mark | Jones | 28 | 31 | 28 | 7 | 21 | 34 | 32 | 153 | 34 | 119 | 29 |
| Sharon | Morris | 50 | 31 | 28 | 26 | 34 | 2 | 32 | 153 | 34 | 119 | 29 |
| Bob | Morris | 31 | 31 | 28 | 26 | 34 | 6 | 32 | 157 | 34 | 123 | 31 |
| John | Welstead | 39 | 20 | 25 | 26 | 34 | 34 | 19 | 158 | 34 | 124 | 32 |
| Ron | Western | 24 | 19 | 20 | 22 | 34 | 34 | 32 | 161 | 34 | 127 | 33 |
| Gavin | Calow | 27 | 31 | 28 | 26 | 10 | 34 | 32 | 161 | 34 | 127 | 33 |
| Mark | Johnson | 24 | 31 | 11 | 26 | 34 | 34 | 32 | 168 | 34 | 134 | 35 |
| Richard | Benson | 30 | 31 | 28 | 26 | 34 | 19 | 32 | 170 | 34 | 136 | 36 |
| Roy | Vivash | 0 | 29 | 28 | 24 | 29 | 32 | 28 | 170 | 32 | 138 | 37 |
| Nigel | Johnson | 34 | 31 | 28 | 26 | 22 | 34 | 32 | 173 | 34 | 139 | 38 |
| Daryl | Langdon | 26 | 26 | 28 | 26 | 27 | 34 | 32 | 173 | 34 | 139 | 38 |
| Nigel | Leverton | 0 | 31 | 26 | 25 | 31 | 28 | 29 | 170 | 31 | 139 | 38 |
| Ian | Williams | 38 | 31 | 28 | 26 | 34 | 24 | 32 | 175 | 34 | 141 | 41 |
| Simon | Ingram | 0 | 31 | 28 | 23 | 30 | 34 | 31 | 177 | 34 | 143 | 42 |
| Glenn | Fitch | 0 | 31 | 28 | 26 | 27 | 34 | 32 | 178 | 34 | 144 | 43 |
| Paul | Dempsey | 27 | 31 | 22 | 26 | 34 | 34 | 32 | 179 | 34 | 145 | 45 |
| Geoff | Cooke | 0 | 31 | 28 | 26 | 34 | 32 | 27 | 178 | 34 | 144 | 43 |
| Gary | Hillman | 0 | 31 | 28 | 26 | 34 | 29 | 32 | 180 | 34 | 146 | 46 |
| Colin | Lazell | 0 | 31 | 28 | 26 | 34 | 31 | 30 | 180 | 34 | 146 | 46 |
| Dave | Morris | 0 | 31 | 28 | 26 | 34 | 30 | 32 | 181 | 34 | 147 | 48 |
| Charlie | Royal | 0 | 30 | 27 | 26 | 34 | 33 | 32 | 182 | 34 | 148 | 49 |
| Terry | Kent | 0 | 31 | 28 | 26 | 32 | 34 | 32 | 183 | 34 | 149 | 50 |
| Peter | Buchanan | 0 | 31 | 28 | 26 | 33 | 34 | 32 | 184 | 34 | 150 | 51 |
| George | Wooldridge | 45 | 31 | 28 | 26 | 34 | 34 | 32 | 185 | 34 | 151 | 52 |